SURREY — Two separate yet connected events strive to bring some Christmas spirit to the streets of Surrey this Sunday (Dec. 4).
Dozens of lighted trucks will be driven through Cloverdale during Surrey's Santa Parade of Lights, starting at 4:30 p.m.
From there, the wheels will roll northwest along Fraser Highway to Surrey's downtown core for the Big Rigs For Kids event, which involves a parade on University Drive and static display near the library from 7 to 8 p.m.
The events are backed by the business improvement associations (or BIAs) in Cloverdale and Downtown Surrey, respectively.
Four of the 60-something trucks in the parade are decorated by volunteers at the B.C. Vintage Truck Museum, located at 176th Street and 60th Avenue in Cloverdale.
(story continues below photo)
With a tinge of embarrassment, Brian Busby (pictured above) recalled an incident that happened during the first lighted-truck parade in Cloverdale more than a decade ago.
"I was there with my pickup and a tandem-axle trailer and we put Santa's sleigh and everything on it, all decorated, beautiful," he said. "I made it up Highway 10, the light changed, I crossed the highway and I looked back, the generator had quit. So there was Santa in the dark. There was no turning back, no choice but to carry on."
On Wednesday, Busby and other volunteers worked to put final decorations on trucks, including the one that will carry Santa again this year – a 1955 GMC donated to the museum by the Hope fire department a few years back.
"One of the guys said, 'Wouldn't it look neat to have the reindeer up on the ladder there?' So we put 'em up there," Busby explained. "We just say that Santa made a wrong turn through Cloverdale and ended up on top of a fire truck."
The dedicated group includes mostly retired truckers and mechanics.
"I don't drive in the parade no more," Busby said. "Now I let the other guys get the glory. That's the fun part, right?"
As always, the Island Equipment Owners Association will send some of their best decorated rigs to start the parade in Cloverdale.
New to the parade this year are two stars of TV's "Highway Thru Hell" show, Jordie and Nik Duperon, who recently moved to Cloverdale with their new business, Jordie's Auto Rescue. Alongside Santa, they will sign autographs and pose for photos in the museum parking lot two hours before the parade start time.
(Story continues below photo)
"We have the new 4:45 start time and a larger parade route – which is three-quarters of the rodeo parade route – because last year we literally filled all the sidewalks," said Paul Orazietti, the Cloverdale BIA's executive director, whose Twitter handle, @Paradeguy, says plenty about his passion for the event.
"It's not a City (of Surrey) event, and the city is definitely a big player, but the people who are actually carrying this event, believe it or not, are the local hair salons, drycleaners, the local accounting shops, auto repair places," Orazietti said. "They're all kicking in $500 each to make it happen, so when you add it up, it's a real grassroots community event."
At both events on Sunday, donations to Surrey Christmas Bureau and Surrey Food Bank will be accepted.
At city hall plaza, musicians Chris Hamilton and Michelle Carlisle will lead a carol sing-along, and members of the North Surrey Lions Club will be selling hot dogs and hot chocolate.
tom.zillich@thenownewspaper.com
Map of truck parade route through Surrey, from Cloverdale to downtown area: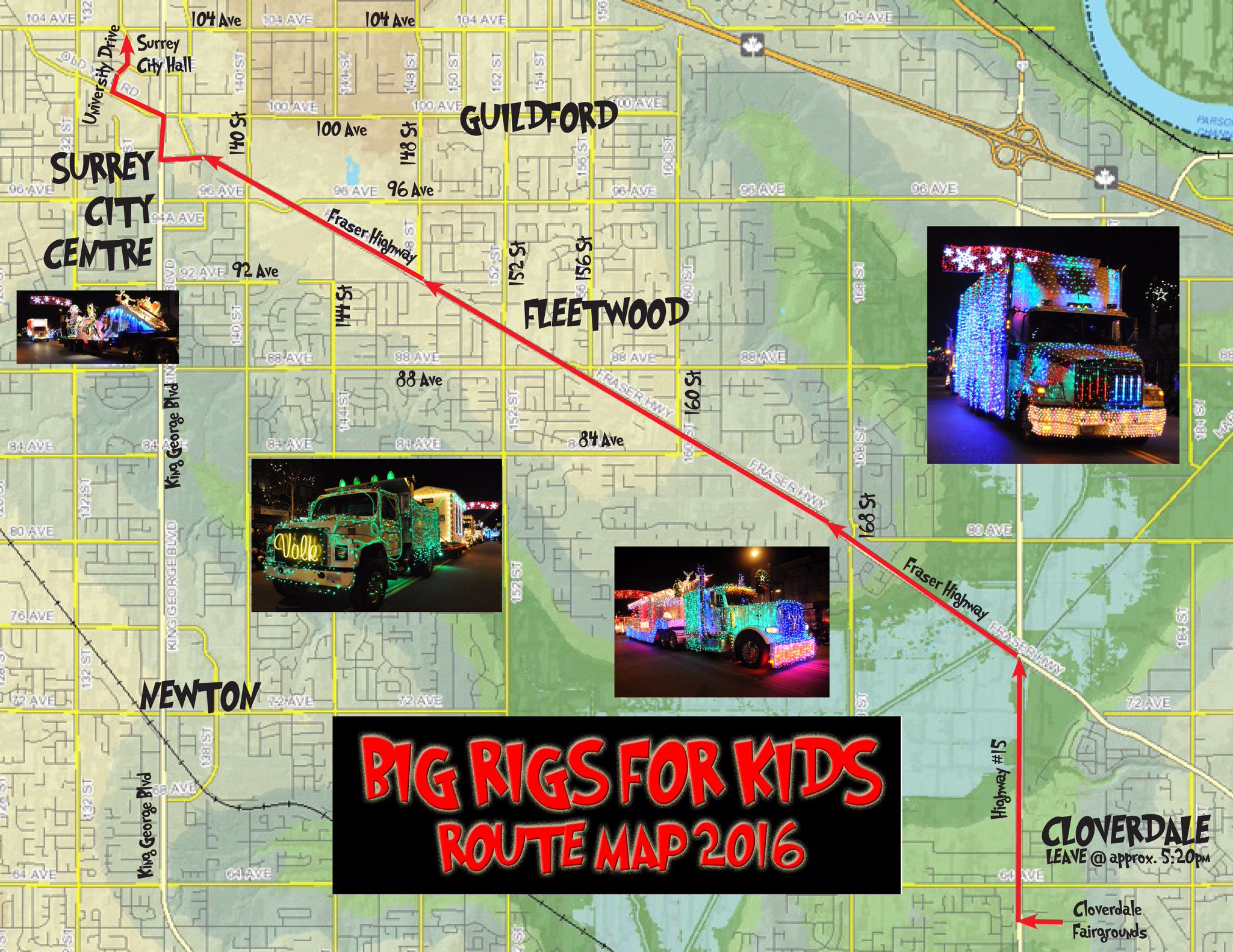 Map of Cloverdale parade route: