This is one in a series of special Langley Advance Times stories about what to expect at this year's Langley Good Times Cruise-In, happen Saturday, Sept. 9 in Aldergrove. You can also check out this series in our special keepsake edition hitting the streets on Thursday and available in limited quantity at the car show.
.
Anyone who knows anything about custom cars knows who the late Pete Chapouris is.
He was a legendary California car builder, who resurrected the famous So-Cal speed shop, and creator of the "California Kid" hot rod, one of the most-copied hot rods ever.
Chapouris, the third boy in his family to be named Pete, was informally know as PC3.
PC4, his son, will be making his first-ever trip to the Langley Good Times Cruise-In.
A celebrated car builder in his own right, PC4 has taken over his dad's speed shop and will be presenting a trophy – the PC3 Pete Chapouris III Memorial Award of Excellence – to the car builder who best reflects his father's exacting standards.
"It is kind of indicative of what we think that he would have liked in a car," Peter told the Langley Advance Times.
"And it doesn't necessarily have to be a hot rod. We've picked all different kinds of cars [for similar awards at other car show]."
Pressed for details, Chapouris said his choice is based on a car's overall look, and its "stance" – the way it sits on its wheels.
There is, by the way, a PC5 – who, at 15, is more into late-model cars, according to his dad.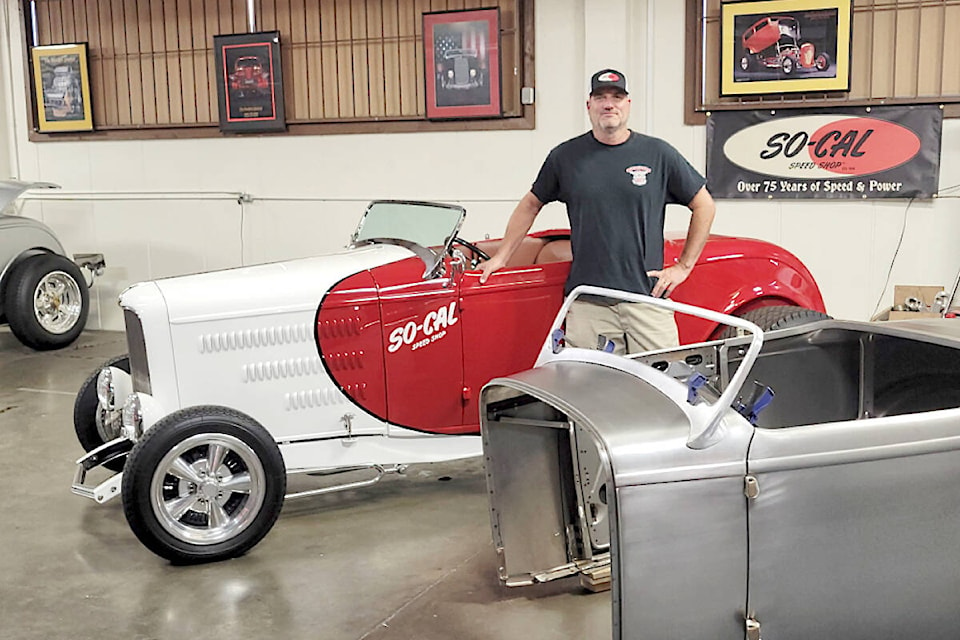 Pete Chapouris III is best known for a retro chopped 1934 Ford three-window coupe that was featured in a made-for-TV movie called The California Kid, starring a young Martin Sheen.
Plus, the well-known customizer created many memorable custom designs, including a pair of Harley-Davidson "HogZZillas" for Billy Gibbons of ZZ Top.
In 1997, his company, The Pete Chapouris Group, PC3g, revived the legendary So-Cal hot rod shop that had opened in 1946 and closed in 1961.
So-Cal Speed Shop Canada, based in Surrey and operated by Wicked Customs Langley owner Scott Booth, a rodder/builder, is why PC4 is making the trip.
Booth and Chapouris have become friends, and the Canadian convinced PC3 to make his first-ever trip to Canada to present the award.
They will be walking through Cruise-In on the day of the event to choose a winner.
"The award isn't for a car with the most points, or anything like that. It's simply a pick for a car that PC3 would love to drive himself. He had a certain style and, and a certain quality level," Booth explained.
Cruise-In president Riccardo Sestito thinks the laid-back nature of the show is a positive for big names like Chapouris, and Jimmy Shine, who has been handing out his namesake award at Cruise-In for years.
"Any of these builders who come from California, they like it because they have a totally different atmosphere," Sestito believes.
"They get to be free and relaxed."
Sestito hopes to make the PC3 trophy an annual award, much like the Shine award.
READ ALSO: Aldergrove car show flooded with requests for non-existent In-N-Out Burger tickets
READ ALSO: Cruise-In contest to win a Jeep for a year requires determination
---
Have a story tip? Email: dan.ferguson@langleyadvancetimes.com
Like us on Facebook and follow us on Twitter.