For 10 days starting Thursday, Sept. 7, Vancouver Fringe Festival will stage 85-plus shows on Granville Island featuring theatre, comedy, dance, music, spoken word and more.
For 2005 North Surrey Secondary grads Stacey McLachlan and Jordan Potter, the focus is on photography — baby photography, specifically.
Their comedy show "Anne Geddes: The Unauthorized, Untrue Biography" aims to skewer fame and the arts.
It all sounds like a very Fringe-y show from the Cake Walk sketch-comedy duo, who debuted at the festival two years ago with a sports stadium-themed "Big League!" show.
This year, in six stagings at Carousel Theatre, their 60-minute comedy will paint beloved baby photographer Anne Geddes "as a warped version of a nightmare art-world celeb, taking the audience (and her hapless son Joffrey) through the twists and turns of her life story."
McLachlan figures it's just weird that we all know about this world-famous baby photographer.
"Good for Anne Geddes, she's crushing it, congratulations, I'm sure she's a wonderful person, but isn't it absolutely bananas that this is even something of a universal name that many people know?"
The longtime friends got laughing about that, and a Fringe show was born.
"Obviously, we're not gonna look anything up or do our research about it because it's a lot more fun to just speculate wildly about, you know, is she a horrible monster?" McLachlan added. "How seriously does she take her art? Is she very self-important? Because those are always really fun characters to play and write, people who have over-the-top self-confidence. It's a fun opportunity to skewer fame and art, the Geddes-iverse."
STORY CONTINUES BELOW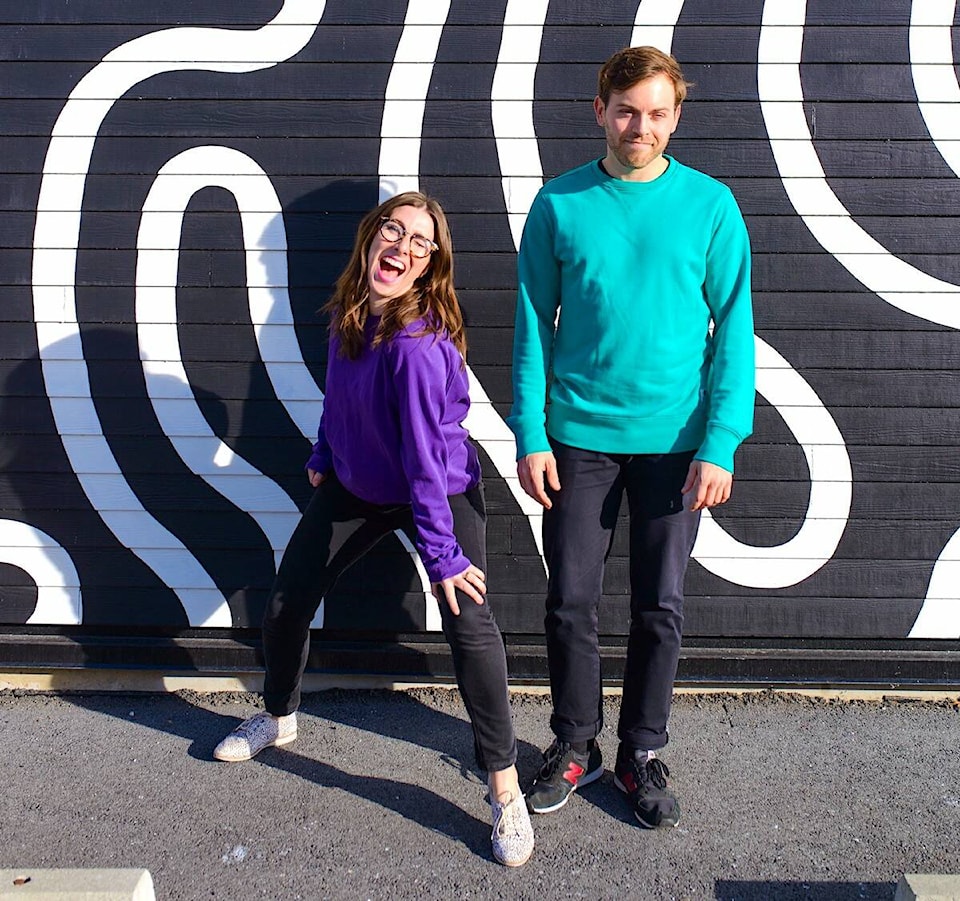 McLachlan, a magazine editor and writer, and Potter, a product manager at a software company, both play multiple characters in the show, which opens Friday, Sept. 8 at 6:15 p.m.
The two launched Cake Walk in 2016, more than a decade after they graduated from North Surrey Secondary.
"I'd like to go on record to say we were frenemies back then," McLachlan said with a laugh.
"In high school Stacey was very much involved in theatre and performing, and I was very much, like, her bitter friend watching and being, like, 'I could do that,' and I was half-right. That's kind of the origin of how we got into this stuff."
The 2021 festival, held during a pandemic, made for a strange Fringe debut for the duo.
"It felt like it was the first time audiences had been in a crowd again, so there was a weird, airport-security kind of feeling," Potter recalled. "It made a weird vibe for comedy. But it was a lot of fun to do. We're looking forward to having a bit more of a normal situation with this show."
The chance to stage a show at Fringe involves a lottery, held in February.
"They didn't, like, look at our portfolio or even perhaps watch our previous show, they literally pull names out of a hat and then we celebrate that our name was pulled and then immediately curse ourselves because we don't have any ideas for a show," Potter deadpanned.
"And after you get in, what's strange is they immediately want you to tell them what the name of your show is and exactly what it's about," he added. "So we made that decision far before we knew what this would be. We had a name and worked backwards from there."
McLachlan said the Fringe is always a good time, whether on stage or in the audience.
"It's just cool to see who else turns up and lines up on stage and what kind of stories emerge," she said. "It's such a mix of people who do this, you know, for a living, like professional clowns travelling the world doing their hula-hoop poetry or whatever. But there's also, you know, single dads doing a one-man show for the first time about their male pattern baldness or whatever. It's just so beautiful that it's anything-goes, a level playing field, no gatekeeping. You never know what you're gonna see, for better or worse, but there's always something delightful to be discovered."