Surrey-raised musician Pat Chessell returns with a debut Christmas song he'll perform at this weekend's Surrey Tree Lighting Festival & Holiday Market.
Heard on Youtube and other platforms, "Christmas Kitchen Party" is a fun, fast-fiddlin', festive number written by Chessell, Ivan Boudreau and John Bowman. Musicians who contributed their talents are whistle player Geoff Kelly (of Spirit of the West fame), fiddler Ray Legere, keyboardist Simon Kendall (Doug and the Slugs), banjo player Kevin Evans, background vocalist Jordan Pritchett (Faber Drive), bassist Boudreau and drummer Gord Robert.
The song was recorded at LFFC Studios in Vancouver, where the Maple Leafs-loving Chessell now lives with his bride and baby (quick, someone get that boy a Canucks jersey for Christmas to set him straight).
With some of musical friends, Chessell is a Day 2 performer at the festival, now a two-day event Saturday and Sunday (Nov. 25-26) at Surrey Civic Plaza. This year more music is promised on a few stages with the likes of Warren Dean Flandez, Come Fly with Me (Michael Bublé tribute), Merry & Bright, Josh Bogert, Phat Santa Swing and others. Details are posted on surreytreelighting.ca.
ARTS/BIZ AWARDS IN GUILDFORD
It's time again for Surrey Arts and Business Awards, a 7th annual event planned Tuesday, Nov. 28, at the Sheraton hotel in Guildford.
In the music category, the 2023 award finalists are Glisha Dela Cruz, Jason Brand and bluegrass band Jackson Hollow.
Other nominees include Surrey Children's Choir, Sireen El-Nashar ( Zaytuna Services Society) and Amarjeet Singh (Naad Arts Centre Society) in the Cultural Ambassador category, along with Arts and Innovation award finalists Praise Theatre Ensemble and Arts Ministry (Praise TEAM), SMASH Theatre School and Studio 73.
Surrey Board of Trade hosts the awards luncheon, to feature guest speakers Lana Popham (B.C.'s Minister Tourism, Arts, Culture and Sport) and David Babych, former Canucks player and alumni member. For tickets and more info visit businessinsurrey.com or call 604-581-7130.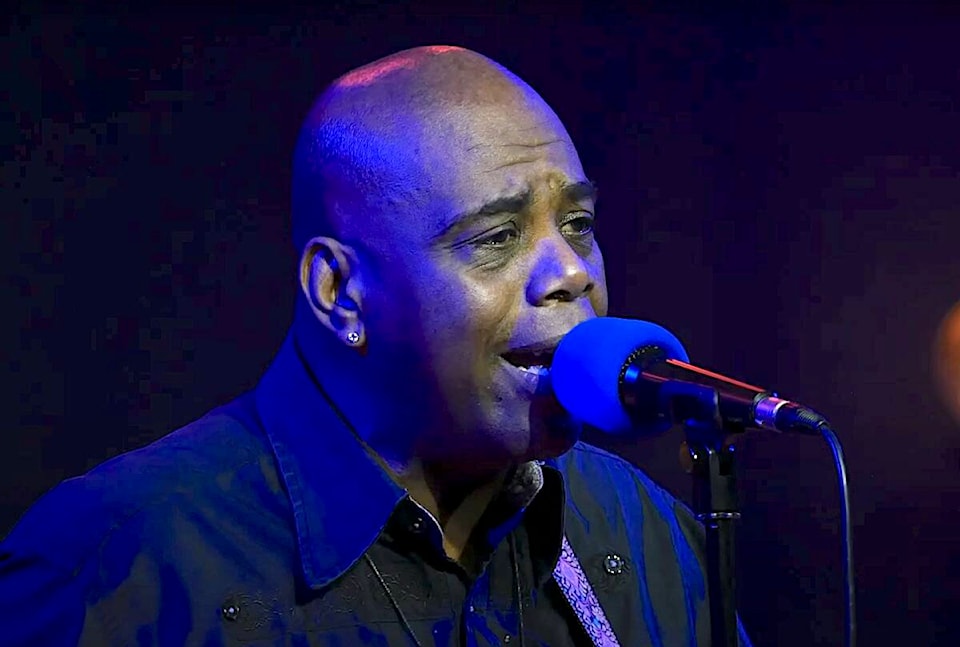 BROWN HELPS 'SOUND THE ALARM'
Surrey's Henri Brown (bass/vocalist) is among musicians featured in a two-part concert project aimed at "reclaiming" Vancouver's 'Black Strathcona' area. Hogan's Alley is where Brown's cousin, Jimi Hendrix, was a frequent visitor to his grandmother's house and earned money sitting in with groups at local clubs.
On Saturday, Dec. 2, the Sound the Alarm music/theatre company presents two Ebony Roots concerts at Strathcona Church, a stage for some of B.C.'s best Black/African-descent musicians and performing artists.
The first session will feature classic soul/Motown sounds from Brandon Thornhill, Carlos Joe Costa, Russell Jackson and many more, while the second concert promises a more modern vibe with Brown, Krystle Dos Santos, Missy Dee, Sam Chimes and others taking the stage. Tickets are $30/$35 (or "pay what you can") on soundthealarm.ca/ebony-roots-1.
Sound the Alarm was created in 2017 to explore music and "sound alarms," or generate conversation and awareness on social issues through its programming. The Ebony Roots concerts are done in association with two other Vancouver-based orgs, African Descent Society and Hogan's Alley Society, and The Black Arts Centre in Surrey, or BLAC. I'm keen to know more about BLAC, described as a Black youth-owned and -operated gallery and community site near Surrey Central Station.
PHOTO RECREATION AT CLUB
In Vancouver at 1022 Davie St., the building that has housed Celebrities for over 40 years was built in 1908 as a place where people could enjoy dancing and concerts. In the 1990s I worked across the street at the WestEnder newspaper, and the club was always packed for dancing. Years earlier it was a rock/hippie hangout (named Dante's Inferno, then Retinal Circus) where Led Zeppelin, Janis Joplin, The Grateful Dead, Velvet Underground and The Doors performed.
Today, Celebrities is owned by Blueprint, the company that co-produced Surrey's FVDED in the Park music festival at Holland Park in recent years, before the plug was pulled last March.
The Vancouver venue's 115th birthday was celebrated Tuesday, Nov. 14, with a cocktail party and recreation of a photo taken Nov. 14, 1923, on the dancefloor of the venue (then known as Lester Court) at the Fireman's 25th annual ball.
'THE STORYVILLE MOSQUITO' INTRIGUES
I'm really intrigued by "The Storyville Mosquito," coming to New West's Massey Theatre this weekend (Nov. 25-26) with miniature sets, puppetry, cinematography and live music by Kid Koala and string trio, all performed, filmed, projected and scored in real time on stage at each performance.
"A young mosquito leaves his small town in the country to seek fame and fortune in the big city and fulfill his dream of playing in one of the greatest bands of all time at Sid Villa's Music Hall," explains a post on kidkoala.com/the-storyville-mosquito. Audiences witness a team of performers bringing this story to life simultaneously on stage and on screen. Following each show, the audience can go to the stage, explore the sets and talk to the performers. Sounds fun to me. Tickets start at $45 on ticketsnw.ca or call 604-521-5050.