White Rock's TD Concerts at the Pier series of 2023 brought out more people than ever before in the nine-year history of the free event.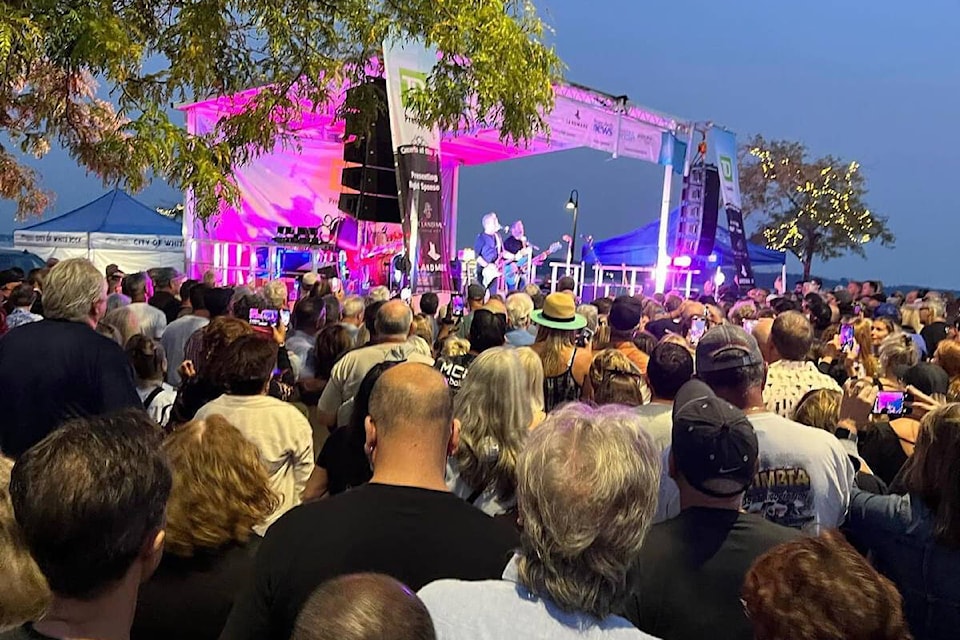 Alex Nixon, executive director of the White Rock BIA – which presents the series in partnership with the city and TD Canada Trust – said that overall attendance, estimated at 29,000, was about 20 per cent higher than the previous series high of 24,000.
The season also drew the biggest single crowd for one concert – an estimated 12,000 people who turned out for the series' finale on Aug. 24 with Colin James and opening act Brandon Isaak.
Previous highest single attendance was the estimated 7,000 people who came out to see the Crash Test Dummies' concert in 2019, Nixon said.
The series scored excellent attendance for all concerts, he said, with this year's headliners also including such bona fide draws as hometown favourite Lee Aaron, The Matinee, Men Without Hats and Jake and Elwood's Blues Brothers Revue.
READ ALSO: Summer concerts series returns to White Rock with 'best ever' lineup
Nixon added that while planners expected the James finale to be big, even they were surprised by the veteran blues rocker's drawing power.
"From our metrics, we were expecting 8,000," he said.
Accomodating and managing that kind of crowd around the East Beach stage adjacent to the Grand Chief Bernard Robert Charles Plaza called for astute judgment – and Nixon praised the swift and decisive action of White Rock RCMP officers at the scene who closed down one lane of traffic on Marine Drive at around 8:30 p.m. and then both lanes at 9 p.m.
"It was clear that most of the people who were on Marine Drive at that point were there for the concert," he said.
"As soon as it was over, they opened up Marine Drive again and had people moving on their way."
Nixon credited the "high level of professionalism," and support that White Rock officers provided for every concert throughout the series schedule.
"The RCMP did a fantastic job," he said.
Nixon also credited series programmers Kelly Breaks (of Blue Frog Studios) and Rob Warwick (of Rock.It Boy Entertainment), BIA events and communications coordinator Megan Wei and other staffers, city staff and council members, and the continuing and evolving support of TD Canada Trust and contributing sponsors Landmark Premiere Properties and Re/Max Western Canada for making the series as successful as it has become.
"It's such a team effort," he said. "And TD has helped us grow it to become a truly iconic White Rock event."
This year's series was the second after two years (2020-21) in which it was cancelled due to the COVID-19 pandemic.
Nixon did, however, acknowledge that the Concerts at the Pier seems to have reached a maximum attendance limit, especially for the James concert.
"Without careful planning, it looks like 12,000 is as many as we can accommodate," he said.
"I was talking to (city councillor) Ernie Klassen, who, as (past) president of the BIA, was one of those who launched the series in 2015. He said they always promised that next year's concert would be 'bigger and better', but now he's not sure that it can get any bigger."
The series is also achieving its goal in helping promote White Rock as a destination, Nixon said – anecdotal evidence he heard this year indicated that the free concerts were being talked about in communities throughout B.C. and figured in decisions to visit the area.
"It's got a great reputation," he said.
Spin-off benefits to to local business also appear strong, he added.
In surveys of those who attended – an approximately one per cent sample of each crowd – half of the participants said they went to a White Rock restaurant before the event, or were planning to go to one afterwards, he said.
But Nixon said that, moving forward, it's likely the series will remain focused on the waterfront, rather than reviving the Five Corners venue that was formerly included.
"I love the block party feel of Five Corners and in many ways it allows a closer, better experience for the audience," he said.
"But the challenge with Five Corners is that it lacks a lot of the infrastructure that you need for such events – including public washrooms – and closing down the streets becomes prohibitively expensive."