Naval Reserve members paraded at Surrey Civic Plaza on Saturday morning (Sept. 23) during a ceremony that has roots in ancient Rome.
HMCS Discovery's Freedom of the City parade involved close to 100 uniformed reservists as part of Canada-wide celebrations that day marking the Naval Reserve's 100th anniversary.
Surrey's 30-minute ceremony began at 11 a.m. on the plaza outside city hall.
Based at Stanley Park in Vancouver, HMCS Discovery is the naval reserve division for Metro Vancouver.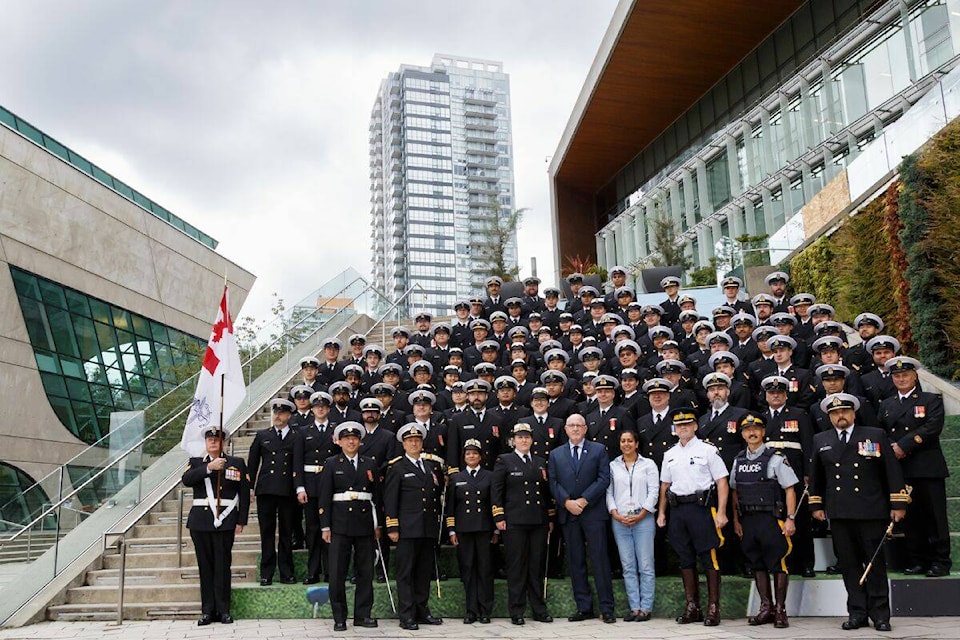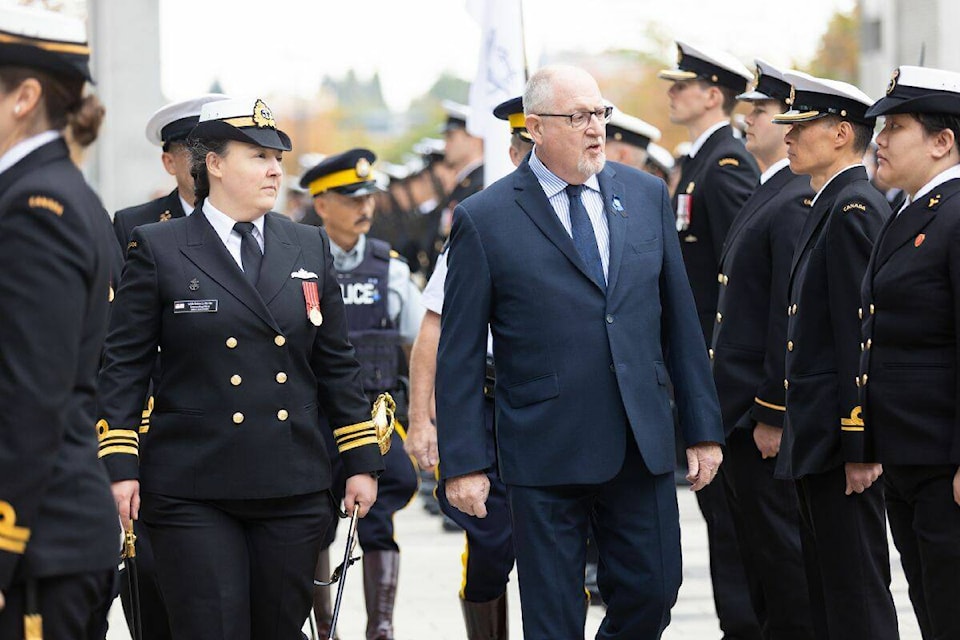 "There are 24 divisions in Canada including the Prairies, places where we might not expect naval reserve units," explained Sub-Lieutenant Ariel Rouhi, public affairs officer with HMCS Discovery.
"The main purpose of naval reserve units, when they were established 100 years ago, was kind of outreach, community outreach, and kind of creating a connection between the Navy and the Canadian public," Rouhi added.
With RCMP present, Saturday's event in Surrey involved a moment of silence for Maple Ridge RCMP Const. Rick O'Brien, killed on the job in Coquitlam the previous day.
Surrey Coun. Rob Stutt, as acting mayor, was involved in a ceremony where Lieutenant-Commander Rebecca Hardie knocked on a door of city hall with a sword, signaling Stutt to enter the plaza and welcome the reservists.
Naval reservists to parade in Surrey to celebrate 100 years of 'bringing the Navy to Canadians' @TomZillich @SurreyNowLeader pic.twitter.com/AuHUhfd0aH

— Anna Burns (@AnnaBBurns) September 23, 2023
Prior to the parade, Rouhi described the event as a "spectacle" involving uniformed reservists, some with rifles.
"This is happening for the centennial, and it's very, very low likelihood that it will happen in our lifetime again," he noted, "so it's a big deal for the units, and it's a great honour that the City of Surrey is bestowing on us."
Canada's Naval Reserve includes more than 4,100 sailors in 24 divisions from Victoria to St. John's.
Back in 1923, Rear-Admiral Walter Hose led a campaign to have the Canadian government to create a volunteer naval reserve, "effectively bringing the Navy to Canadians who live kilometres away from our coastlines," according to a post on canada.ca.
Today's naval reservists are members of the Royal Canadian Navy who typically serve on a part-time basis. "They are employees, co-workers and students from your community who embody the courage, loyalty, and commitment to service to keep one foot firmly planted in a civilian career and the other training and preparing to protect Canadians at home and abroad," the website explains.
Reservists support provincial and local authorities in domestic operations, usually in response to natural disasters including recent forest fires in B.C. and hurricanes in Nova Scotia and Newfoundland.
As for Freedom of the City ceremonies, the origins can be traced back to ancient Rome when cities were fortified with walls and gates.
"The city authorities regarded the boundaries as almost sacred and implemented strict regulations on military units' entry," Rouhi noted. "Troops seeking access were required to demonstrate exemplary behavior and a clear purpose for their presence. An exception was made for victory celebrations, allowing the victorious general temporary entry."
Over time, this ancient tradition found its way to various parts of the world, including Canada.
"The ceremonial aspect evolved as cities and militaries transformed, but the core significance remained," Rouhi told Black Press Media. "A symbolic gesture to honor military units with historical, social, or geographical ties to a specific region, acknowledging their dedicated service and fostering a strong bond between the unit and the civilian population.
"One notable example of the Freedom of the City ceremony in Canada is that which was bestowed upon His Majesty's Canadian Ship (HMCS) Discovery, by the City of Vancouver. It was the first Naval Reserve Division to receive such an honour, in 1973."