When Ellie immigrated to Canada in June 2022, she came with a clear plan.
"From the start, I wanted to get my foot in the door by getting an education that's recognized here in BC," says Ellie, whose long-term goal is to become a Certified Professional Accountant in the public sector.
Before moving to Vancouver with her husband, Ellie worked as an account manager at a bank in Hong Kong. She assumed that most employers wouldn't recognize her international experience, so when she got to Canada she enrolled in a diploma program in accounting at the University of British Columbia.
Career Paths for Skilled Immigrants
While completing her studies, Ellie reached out to Immigrant Services Society of BC (ISSofBC) to see if they could help her start getting local work experience.
"For newcomers it's really hard to find your first job, especially if you don't have local experience, don't know about Canadian workplace culture and don't have a local network offering professional advice or job opportunities," she says.
ISSofBC immediately connected her with the Career Paths for Skilled Immigrants program to help her reach her long-term and short-term career goals.
"First they got to know my background and my needs, then referred me to different specialists to work on my resume, learn about Canadian workplace culture and start applying for jobs," she says. "I got my current job as an accounting assistant because of ISSofBC."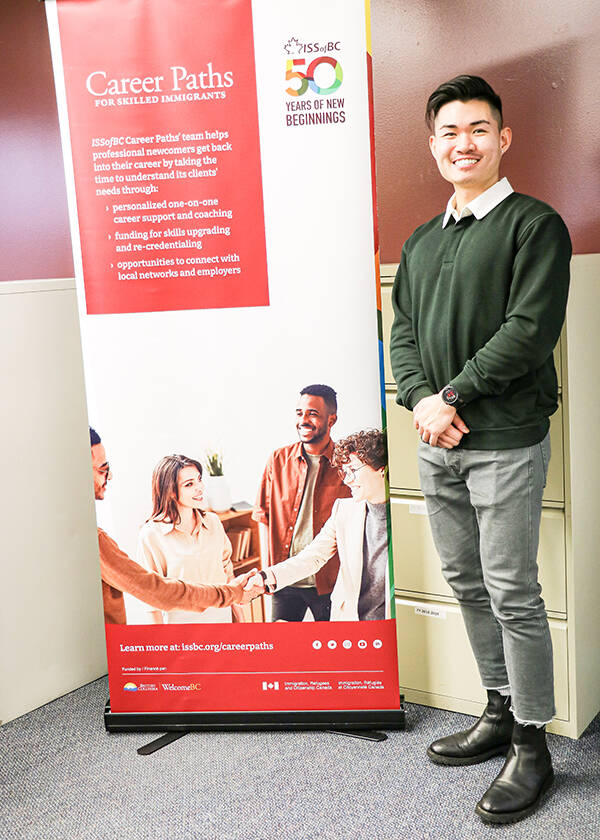 Employer Relations Specialist
One of the people helping Ellie was Martin Lee, an Employer Relations Specialist with ISSofBC. Martin develops lasting relationships with local employers so he can match qualified clients with meaningful work.
"Ellie has a very strong resume, and she was very motivated to find a job. But because she's a full-time student she didn't have a lot of time to conduct a job search. So I started connecting her with employers currently hiring that might be a good fit."
The Career Paths for Skilled Immigrants program offers support for a full year, so Ellie can continue to receive mentorship from Martin for questions about the job itself, Canadian cultural practices in the office or her first performance review.
For other newcomers just starting their career search in Canada, Ellie has some words of encouragement:
"You have to have faith! I wasn't very confident that I could land a job without finishing my education, but some employers do recognize international experience. Keep searching, keep marketing yourself, don't give up and don't get discouraged!"
To learn more about the Career Paths for Skilled Immigrants program, register for a free, online info session, held every Tuesday from 12 p.m. to 1 p.m. Learn more at issbc.org/ask or visit the Surrey Welcome Centre, 301-10334 152A St. Have a question? Call 604-375-2105 or email careerpaths@issbc.org