The Surrey Board of Trade has come out in support of a controversial new coal export terminal proposed on the city's riverfront, saying concerns raised about environmental impacts are not serious enough to trump economic development.
And CEO Anita Huberman indicated the business organization may well take the same stance on the proposed twinning of Kinder Morgan's oil pipeline.
She said the board of trade is satisfied with assurances from Fraser Surrey Docks that various strategies will minimize the escape of coal dust from trains and from the proposed terminal that would load four million tonnes of coal per year onto barges.
Huberman called the $15-million project good for Surrey and the region. It would create 50 jobs, half at the Surrey terminal and the rest running the barges or at a transhipment point on Texada Island.
"We have to stop saying 'No' to everything and that's what I think is happening sometimes in South Surrey," she said.
"Yes the environment is important… The economic argument for us is the winner."
Huberman said she "absolutely" wants Surrey's mayor and council, which have so far stayed on the fence, to take a firm stand in favour of the coal terminal.
She's pressing other stakeholder and neighbouring business groups to do the same.
The South Surrey/White Rock Chamber of Commerce has not yet taken a position on the coal terminal either – its board will consider it next week – and Huberman said she had hoped the two groups could have adopted a united position by now.
The chamber in New Westminster, where the project has also hit opposition, issued a statement saying it believes Fraser Surrey Docks deserves the chance to expand, provided there's formal agreement on open and transparent community engagement, and the use of carbon offsets to address climate change concerns.
Huberman said the board of trade will take soon take a formal position on the Kinder Morgan pipeline and although she couldn't officially say support is pending, she expects "the same lens of the economy and job creation will be factored in on that topic also."
The right-of-way for Kinder Morgan's existing pipeline snakes through heavily developed sections of north Surrey.
"It will impact Surrey because the pipeline will be going through part of Surrey," Huberman acknowledged, but noted having a pipeline in the ground is not new and there are "always" arguments against such projects over climate change or local concerns.
Asked if any merchants worry that extensive pipeline construction could cause major business disruption in Surrey, as the Canada Line construction did along Cambie Street in Vancouver, Huberman said she hopes that doesn't happen.
"Sometimes there's short-term pain for long-term gain," she added, citing the delays associated with the Highway 1 expansion and Port Mann Bridge construction as one example.
The board of trade issued its statement on the coal terminal just ahead of the first of two open houses hosted in Surrey by Fraser Surrey Docks – one Thursday evening and a second Saturday afternoon.
Opponents critical of the open houses say they're designed to quell opposition and have demanded full public hearings instead.
"Open houses run by the proponent do not count as proper public consultation," said Eoin Madden of the Wilderness Committee.
NDP politicians in New Westminster, meanwhile, have said they'll hold their own town hall meeting there on the issue on May 30.
Protesters opposed to increased coal exports held a demonstration at Port Metro Vancouver offices in downtown Vancouver Thursday.
The additional coal that would roll through the region – increasing exports by about 10 per cent – would move along the BNSF railway through White Rock, South Surrey and Delta.
Organizers of Thursday's protest said opponents came from those communities as well as New Westminster.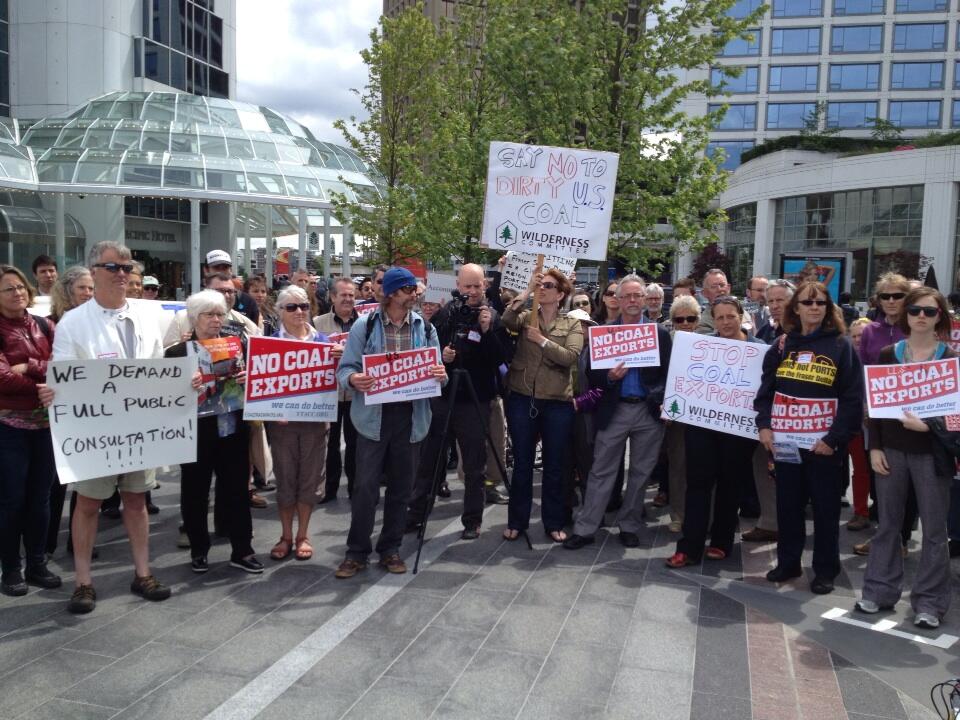 Protesters in downtown Vancouver Thursday.