The therapeutic relationship between a therapist and the client matters – a lot. The American Psychological Association states, "A good relationship is essential to helping the client connect with, remain in and get the most from therapy."
As a patient, I totally agree that the strong therapeutic relationship I have with my therapist has helped my success in therapy – not to downplay the massive amount of work I have put in.
My therapist helped me get my voice back. I have felt seen, heard and challenged.
Because of my own experience, I am extremely passionate about therapy and access to mental health support. So when I was invited to moderate a panel of mental health experts at SFU Surrey, I jumped at the chance.
The May 5 panel was part of a cross-cultural mental health research and practice forum. Each panellist came with their own personal or professional experience in the field of mental health. Panellists included Tania Bakas, Jshandeep Jassal, Dr. Masahiro Minami, Heather Lynch and Dr. Nancy Clark.
Jassal spoke about the importance of creating spaces for healing that are community created and led. Jassal is a Punjabi Sikh woman who grew up in the Surrey area. Her own lived experiences motivated her to co-found a number of different mental health organizations, including Let Her Talk and the South Asian Healing Network.
The South Asian Healing Network delivers free workshops to youth and Let Her Talk provides a space for girls to discuss gender identity and sexuality among racialized women and girls.
"With all of the initiatives I've described, these are spaces created by communities themselves," Jassal said, noting that most of the mental health care system was created by Western institutions. It is important that space is made to lead their own healing, Jassal added.
"(We need to) carve pathways for people to have leadership in their own communities because they know what they need best," she said.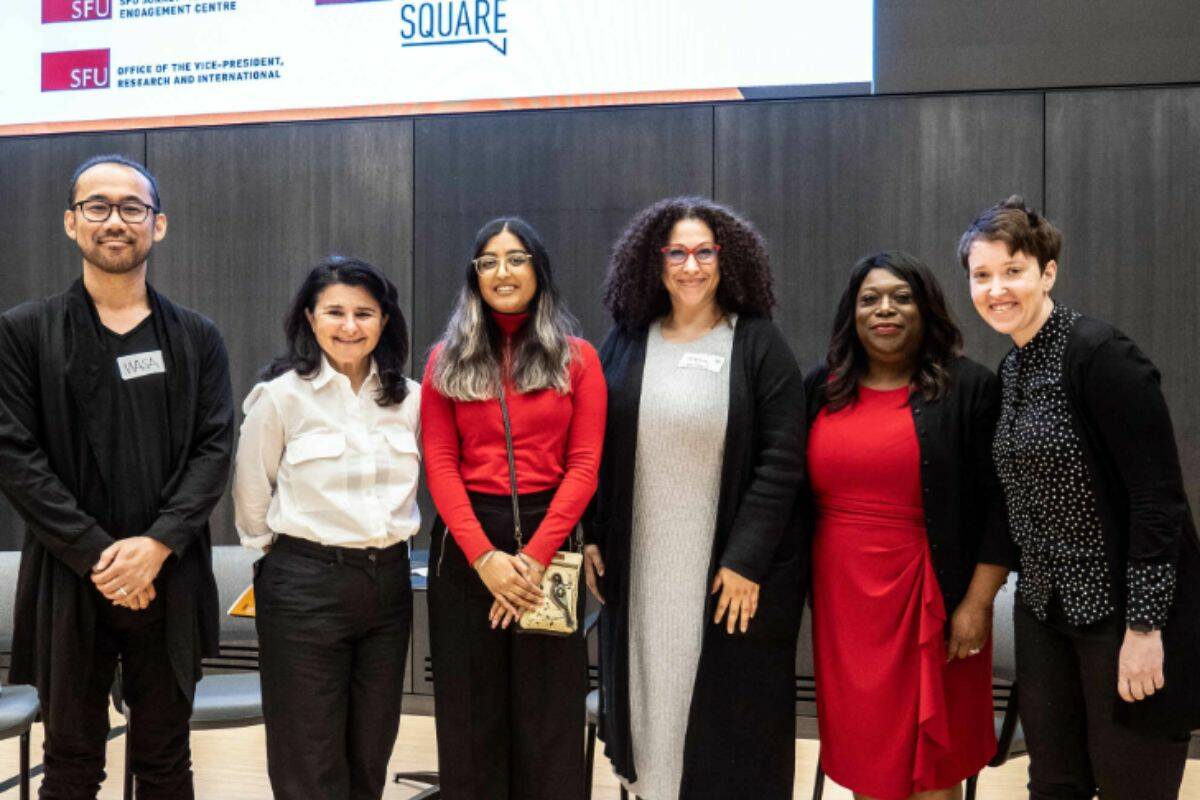 The keynote speaker was Dr. Farooq Naeem, a psychiatrist at the Centre for Addiction & Mental Health. He spoke on culturally adapted cognitive behavioural therapy (CBT).
As CAMH describes it, CBT helps people to examine how they make sense of what is happening around them and how these perceptions affect the way they feel.
Dr. Naeem's research focuses on the need for culturally adapted CBT. His study focused specifically on the South Asian community in Canada.
Cultural CBT is about "the process of making adjustments in therapy to improve engagement when working with a person with whom therapists do not share a cultural background," Dr. Naeem said.
Sarah Ahmed was the research co-ordinator for the study and saw firsthand the impact culturally adapted CBT had.
"When it comes to mental health care, everyone deserves the right to care that is culturally appropriate for them that is equitable, and that is accessible," Ahmed said.
I am not an expert in mental health but I have a lot of lived experience. Over the years, my therapist has used CBT during some of our sessions. Although my work in therapy has been mainly trauma based, I have benefited from CBT.
I think the idea of adapting CBT to someone's culture is brilliant. Dr. Naeem stressed that a therapist does not need to be from the same culture as their client but should be aware of their own biases through which they view the world.
That makes total sense to me. My therapist is from the same culture and hometown as I am. I did not see her for that reason. But the fact that she understands my culture as a white woman with a religious upbringing in Alberta has been immensely valuable.
So I can only imagine how beneficial it would be to use culturally adapted CBT. I am looking forward to hearing more about this in the future.
To learn more about CBT, visit camh.ca/cacbt.
Anna Burns is a staff writer with the Now-Leader. Email anna.burns@surreynowleader.com