SURREY — On a high, the Valley West Hawks are set to fly to Alberta for a chance to play for a national hockey title.
The B.C. Major Midget League team earned a trip to Lloydminster this weekend after scoring the provincial championship March 19 at South Surrey Arena.
On the Alberta-Saskatchewan border, the high-scoring Hawks will face the defensive-minded Bobcats in a best-of-three series that starts Friday (April 1). The winner will represent the Pacific region in the Telus Cup national championship, held in Quispamsis, New Brunswick from April 18 to 24.
Hawks head coach Jessie Leung said his team is thankful for more than a week off from playoff games.
"We're looking pretty good health-wise, and it was good to get a week off from games, to allow for some maintenance days and get some treatment we otherwise might not have gotten," he told the Now.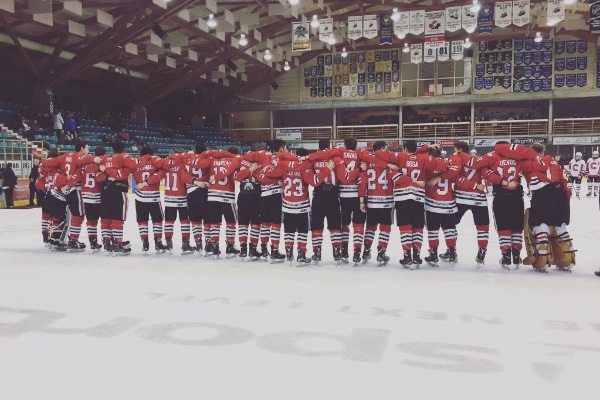 During the regular season, the Hawks topped the 11-team BCMML with 33 wins, six losses and one tie. The B.C.-wide league of regional teams allows teens to play high-level hockey close to home, and the Hawks' roster is populated with players from Cloverdale, North Delta, Semiahmoo and Surrey minor associations.
The scouting report on Lloydminster is they're definitely a defense-first team.
"They don't really have any of the offensive guys who stand out," Leung said, "but their goaltending is really good and their defense is good, so they're definitely built from the net out and they've gone through Alberta basically denying Grade-A scoring opportunities. In the final there (against UFA Bisons), they gave up 23 or 24 shots, and every single one of them was from the outside or through five bodies. It's a pretty intriguing match-up with our team, which is built with speed and quite a bit of offensive skill. It'll be interesting to see which one wins out."
In Major Midget hockey, Alberta and B.C. alternate as host of the Pacific region final, and this year the games are played in Wild Rose country.
To offset some of the estimated $30,000 in travel costs to get to Lloydminster, the Hawks launched an online fundraising campaign called "Road To Telus Cup," posted at Gofundme.com/4gv45dpe.
"Once we started looking at the costs, they were a bit higher than we budgeted for, so we were able to get some help there (with the campaign)," Leung noted. "Unfortunately, we're still having the families kick in some money for us to make the trip, but I suppose that's just a price of our success. It's a pretty cool opportunity to go there and play for a berth in the national championship at the midget level."
Pacific Regional Championship schedule announced. @vwhawks vs @AAABobcats Please retweet and let's pack the den!! pic.twitter.com/U6VOY0gFJd

— Midget AAA Bobcats (@AAABobcats) March 25, 2016
At South Surrey Arena on March 19, the Hawks won the BCMML's Cromie Memorial Trophy with a convincing 9-4 win over Cariboo Cougars. North Delta product James Malm led the way with four goals, with singles added by Ben Evanish, Josh Bruce, Ilijah Colina, Christian Bosa and Kabir Gill.
tom.zillich@thenownewspaper.com