Tyson Philpot's childhood dream came true Sunday (Nov. 19) when he lifted the Grey Cup trophy in Hamilton.
The North Delta-raised receiver, 23, caught the winning touchdown in Montreal Alouettes' 28-24 win over Winnipeg Blue Bombers and was named Most Valuable Canadian in the CFL championship game.
The 2000-born Philpot made six catches for 63 yards and scored one dramatic touchdown in the dying seconds.
"We talked about it all year, it was gonna come down to one play," Philpot told a TSN reporter at Tim Hortons Field after the game. "I saw one-on-one coverage, I knew Cody (Fajardo, Montreal quarterback) trusted in me, the rest is history.
"I dreamed about this as a kid to get the game-winning touchdown, man. Surreal."
A Surrey resident for a time, Philpot played football at Seaquam Secondary with twin brother Jalen, now a receiver for Calgary Stampeders. They are sons of Cory Philpot, a running back who won a Grey Cup with BC Lions in 1994.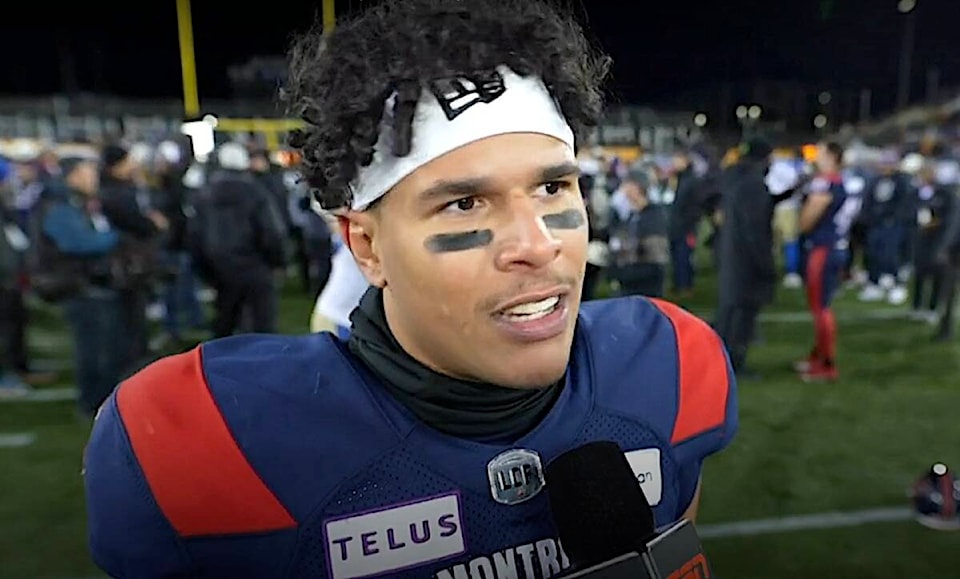 Members of the Philpot family were in Hamilton to watch Sunday's big game.
"I love you guys and can't wait to celebrate," Tyson told TSN.
Prior to the CFL, the Philpot twins played for the University of Calgary Dinos.
A few years ago Jalen and Tyson had remarkable careers playing for Seaquam Seahawks. They helped the North Delta school team win the Provincial 2A Championship in 2016 and led them to the BCSSA 3A semi-final in 2017, losing to Terry Fox Ravens. Both were named Most Outstanding Players of the Year at Seaquam in Grades 11 and 12 as well as being named to the Seaquam Hall of Fame in their senior year.
Both Tyson and Jalen were all-stars in 2017 at the Canada Cup tournament in Wolfville, Nova Scotia. They also competed in the International Bowl in Dallas, Texas in January 2018 as members of Canada's U18 team. In 2019 they were members of Canada's U19 team that played in Mexico, winning the world championship.