For anyone looking for big off-road capability in a vehicle that's less brash than the Jeep Wrangler, the roomier and more sophisticated Grand Cherokee is deserves consideration. And selecting the 4xe plug-in hybrid (PHEV) variant could potentially reduce your fuel bills.
Introduced for the 2022 model year, the 4xe joined the 293-horsepower 3.6-litre V-6 and a 357-horsepower 5.7-litre V-8. The latter was cancelled for 2023 but it remains available in the larger seven-passenger Grand Cherokee L.
The 4xe powertrain is also available for the Wrangler (but not the Grand Cherokee L) and consists of a 270-horsepower turbocharged 2.0-litre four-cylinder gasoline engine plus two electric motors that produce a net 375 horsepower and 470 pound-feet of torque.
An eight-speed automatic transmission is standard for both powertrains.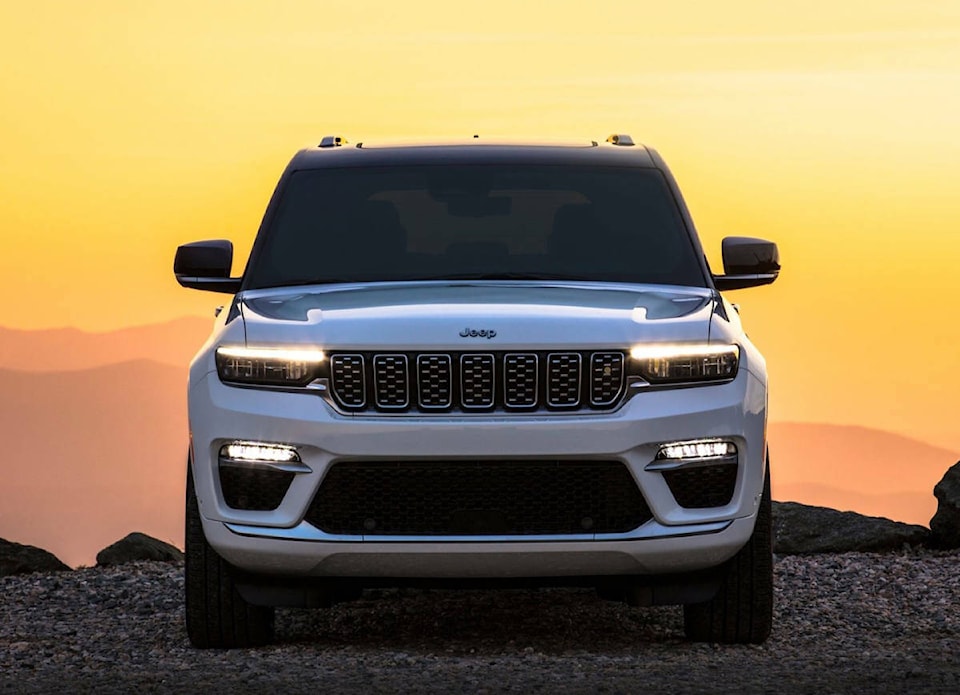 Other than a port on the driver's side front fender for plugging in, the 4xe is virtually indistinguishable from the other Grand Cherokees. The classic utility vehicle design — including the recognizable seven-slot grille — channels the first Grand Cherokee that was available for 1993.
The current model is somewhat more aerodynamic and continues to provide a spacious cabin and plenty of cargo room. The placement of the 17-kilowatt-hour battery beneath the floor doesn't impede stowage capacity in any way. It's also housed in a waterproof containment unit with protective underbody skid plates. According to Jeep, this allows the 4xe to ford water up to 60 centimetres deep without damaging the system's components. On dry land, there's about 27 centimetres of boulder- and rut-clearing ground clearance. Towing capacity is a respectable 6,000 pounds (2,730 kilograms).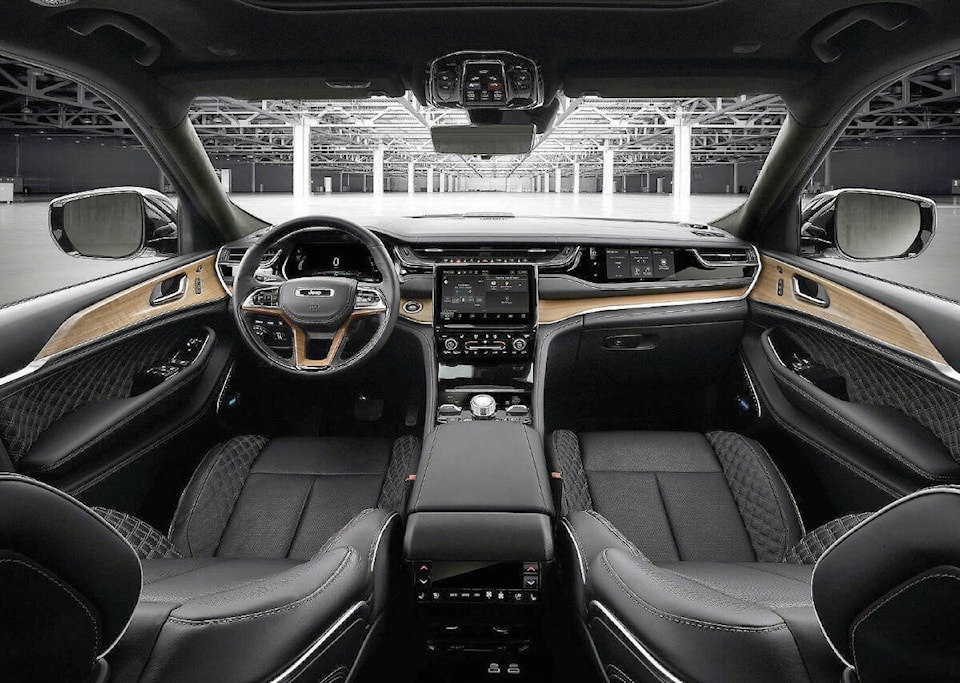 The Grand Cherokee's interior leans heavily toward the premium side of the scale, with plenty of standard and available luxury touches. Among the options is a front passenger screen (in the dash) with redundant infotainment and navigation functionality. Users can even select routes on their navigation screen and forward them to the larger 10.1-inch primary screen. When not performing navigator duties, passengers can access video programming.
When fully charged, the 4xe can operate in electric mode for up to 40 kilometres. The gasoline engine fires up to assist when the driver gets aggressive with the throttle.
The 4xe's E Selec modes can be set to Hybrid, with the motor and gasoline engine functioning as a team. In Electric mode, only the electric motor functions. When the battery is depleted, the gasoline engine powers the vehicle. The eSave mode allows the battery to be topped up with electricity by the engine and stored for later use.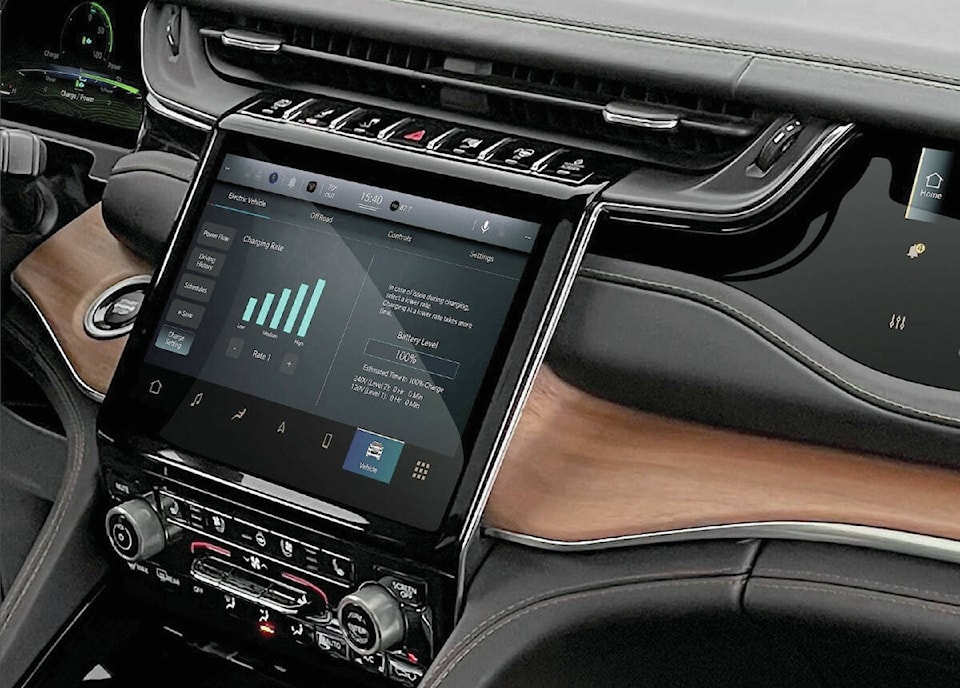 Recharging the battery with 240-volt Level 2 station — what you'll typically find at the local mall — takes about 2.5 hours. Using a standard 120-volt home outlet, expect about 12 hours. You can also have a Level 2 station installed at home, which should be considered mandatory.
Hybrid-mode fuel consumption is rated at 4.2 l/100 km for combined city/highway driving. But with the battery depleted (and in gasoline mode), that increases to 10.0 l/100 km, which is only slightly better than the V-6's 10.9 l/100 km. The electricity cost in EV mode will vary depending on how you drive and your local power rates.
Accelerating from a stop, the 4xe can feel hesitant, as if it's trying to make up its mind whether to launch in electric or gasoline mode (or perhaps both). Ultimately, though, acceleration is quite rapid.
You might think the Grand Cherokee would be stiff-riding, but the suspension absorbs the bumpy bits — the highway ride is smooth — and the steering is sharp and direct.
The base Grand Cherokee Laredo V-6 starts at $54,850 in Canada, including destination charges, but the base 4xe (one of five trim levels) rings in at $77,900. It's not eligible for a rebate under the federal iZEV program, according the Transport Canada website.
The price might seem steep, but if your travels include plenty of short hops that can be done on electric power, plus occasional quick bursts up to highway speeds and forays off the beaten path, then the 4xe might be worth it.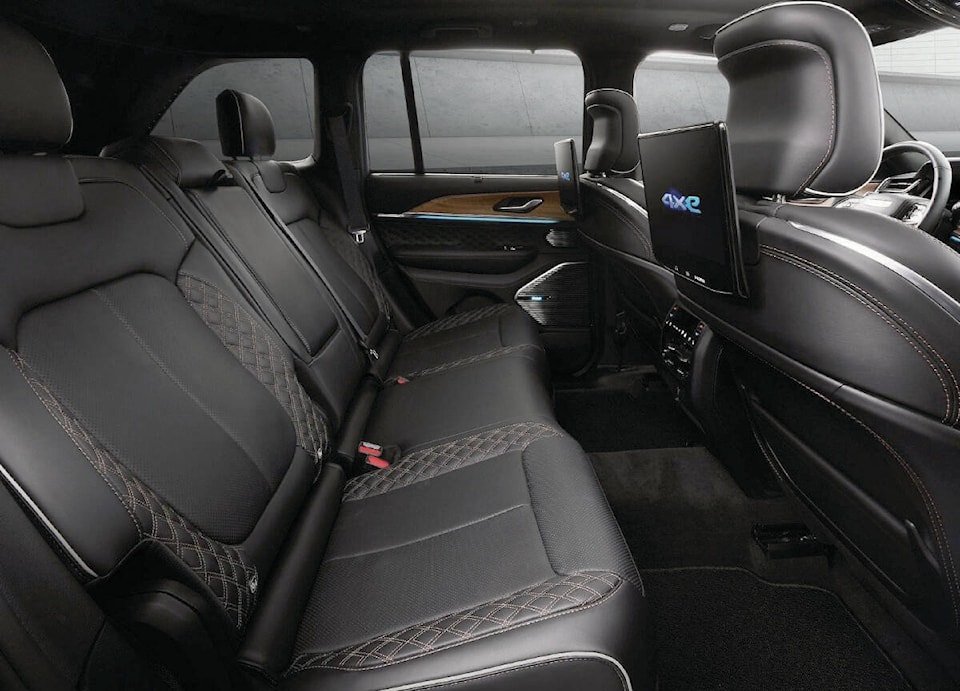 What you should know: 2023 Jeep Grand Cherokee 4xe
Type: Four-wheel-drive midsize plug-in hybrid utility vehicle
Engine (h.p.): 2.0-litre I-4, turbocharged and dual electric motors (375)
Transmission: Eight-speed automatic
Market position: The Grand Cherokee 4xe produces V-8-like power with a four-cylinder engine and electric motors. It's also the second model in the Jeep lineup (following the Wrangler) to offer this particular plug-in hybrid option.
Points: Good looks done up in a traditionally styled package. • Modern interior offers a unique secondary display-screen option. • Hybrid system is powerful, but not particularly smooth. • EV mode provides excellent fuel economy, but only for a short distance. • Passenger comfort/ride quality is a strong selling point.
Active safety: Blind-spot warning with cross-traffic backup alert (std.); active cruise control (std.); front and rear emergency braking (std.); inattentive-driver alert (std.); lane-departure warning (std.); pedestrian and cyclist detection (std.)
Le/100 km (city/hwy comb.): 4.2, hybrid mode
Base price (including destination): $77,900
BY COMPARISON
Toyota Sequoia
Base price: $78,000
Hybrid 3.4-litre V-6 (not plug-in) makes 437 h.p., standard four-wheel-drive.
Mitsubishi Outlander PHEV
Base price: $48,500
248 h.p. 2.4-litre I-4 plus electric motors, EV range is about 60 km.
Ford Explorer
Base price: $62,500
Hybrid option combines a 3.3-litre V-6 with an electric motor for 318 h.p.
– written by Malcom Gunn, Managing Partner at Wheelbase Media
If you're interested in new or used vehicles, be sure to visit TodaysDrive.com to find your dream car today! Like us on Facebook and follow us on Instagram