The one consistent communications service that has never failed has been amateur radio.
Federally licensed radio operators, often called "hams," provide back-up communications for everything from community events to local emergency operation centres.
Paulette Schouten, 69, put her training to use during the fires in Kelowna in 2003. At the time, Schouten was the president of the Vancouver Emergency Community Telecommunications Organization (VECTOR). The B.C. emergency management program asked if she would put a team of amateur radio operators together to give the current team a break.
The fire chief had been working around the clock and did not want to close down the operations centre one night. But when he saw Schouten and her team were there, he changed his mind.
"He was comfortable with the fact that I was there with the experience and could actually run it," Schouten said.
She said it ended up being a quiet night, but it ended up being an eye-opener. It showed her how her skills were useful and helped the team of first responders take a much-needed break.
John Schouten, director for Surrey Amateur Radio Communications (SARC) said amateur radio is all volunteer based.
"We're not amateurs because we don't know what we're doing but because we cannot be paid for our activities," Schouten said.
Amateur radio has helped provide communications to report incidents or lost children at events like the Vancouver Marathon, Celebration of Lights and the Run Surrey Run happening on Sept. 10.
This June, amateur radio operators will have a chance to put their skills to the test. Known as Field Day, Surrey's ham radio operators will use a variety of voice and data techniques during the annual exercise that starts Saturday (June 24) at 11 a.m. and runs until Sunday (June 25) at 11 a.m. at the Surrey Emergency Program facility located at 5756 142 St.
The day is part competition and part emergency preparedness. Schouten said up to 3,000 amateur radio operators across North America will participate in the day. The more contacts the operator makes, the more successful they are.
This year, field day will have an emphasis on getting new hams involved. Amateur radio has traditionally involved retired people but the club is looking for more younger volunteers.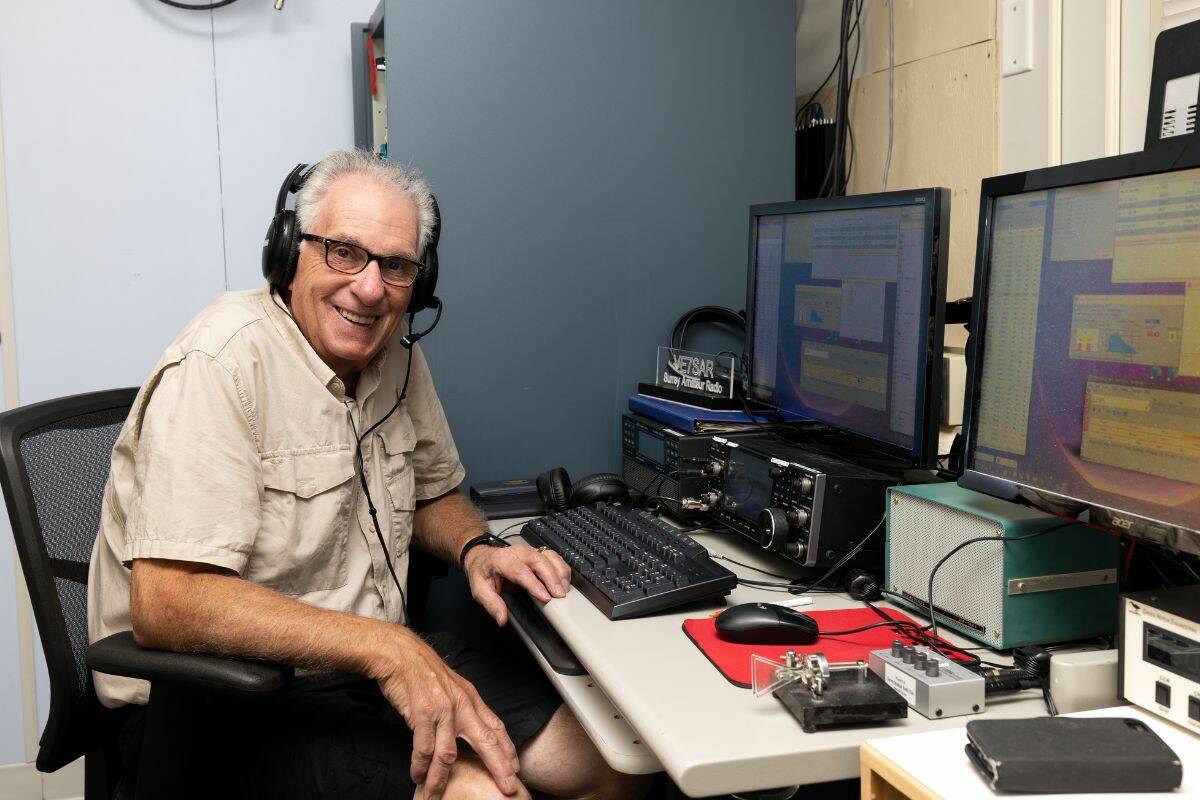 Retired Surrey high school teacher Larry Bloom, a 2022 grogram graduate, came up with an idea in the hopes of drawing a younger crowd and getting new graduates on the air.
Bloom said he was frustrated when he was first certified because he was struggling to find ways to get on the air. His radio sat untouched, tucked away in a drawer for several months.
That's why the club now offers Get on the Air (GOTA) program to new hams. During the workshops, they program their radios and get them on the air. Bloom, the new SARC ham co-ordinator, said the GOTA workshops will help new hams kick-start their ham journey.
He also started a net – a 'meeting place' on the airwaves – for new hams every Thursday at 8 p.m. hosted on the SARC North Repeater frequency at 147.360MHz + tone 110.9Hz.
Bloom said he got certified because he wanted to know how to communicate in the event of an emergency if communications systems went down.
"It was just a box I wanted to check and became absolutely fascinated by it."
For more information on SARC and Field Day, or to sign up for a amateur radio certificate course, click here.
-With files from Beau Simpson
---

anna.burns@surreynowleader.com
Like us on Facebook Follow us on Instagram and follow Anna on Twitter