Some Surrey-area foodies are feeding the masses at this year's PNE fair.
Anthony Cross has driven his Jamaican Mi Juicy truck to the East Vancouver grounds in recent years, and he's been rolling there for close to two decades with other food ventures including Double Decker Diner.
"The fruit smoothies is what got us started, and from there we moved into the food, everything Caribbean," Cross said of his Jamaican flag-adorned truck.
"We've been here for 20-odd years now, with different food and trucks," added Cross, who has lived in the Guildford area for 32 years and also operates the Wish hair salon in South Surrey.
New this year are Irie Rolls, tortillas deep-fried with jerk chicken, shredded cheese and corn, and topped with chipotle and sweet chili sauces.
"It goes really well with our Bombastic drink, just fantastic, which is pineapple, strawberry, mango and raspberry all blended together," Cross explained.
This year's PNE fair isn't as busy as previous years, he estimated.
"People are here and they're hungry and thirsty, but it doesn't feel quite as busy as in recent years," Cross said. "But we'll be back. We love the PNE."
STORY CONTINUES BELOW
Served by Anthony Cross, customer Saleemah tries an Irie Roll with jerk chicken, corn and cheese, new to the menu of Surrey's Jamaican Mi Juicy food truck at @PNE_Playland this summer. @JamaicanMiJuicy pic.twitter.com/OxyW37DYMc

— Tom Zillich (@TomZillich) August 27, 2023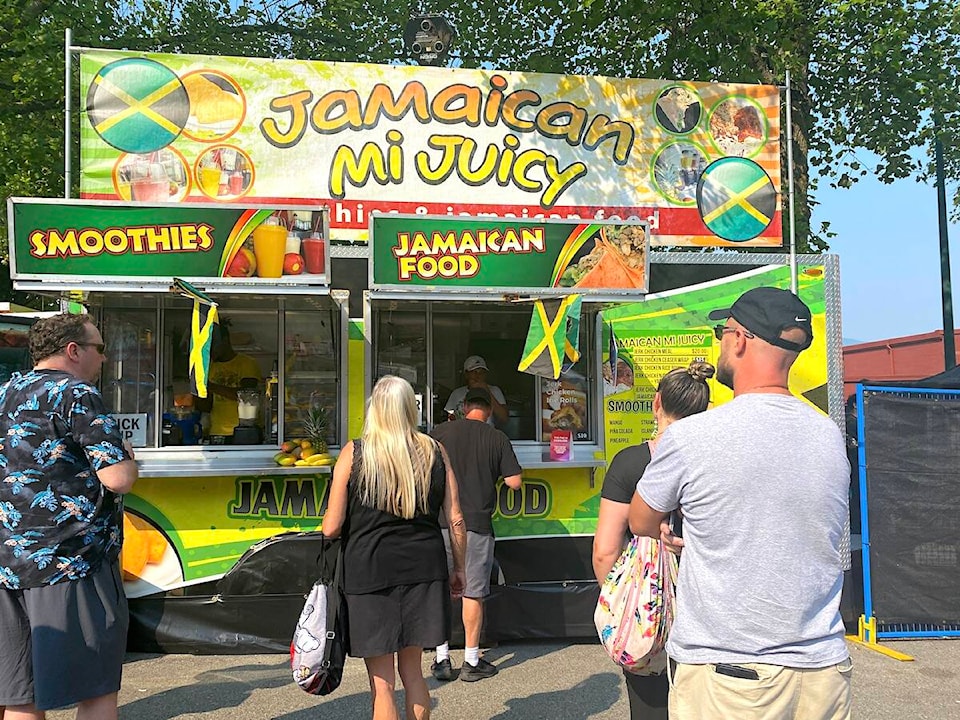 New to the fair this year is Clayton Heights' Truckin' BBQ, and 2023 marks a second PNE for Giang Nguyen's Roasted Revolution corn truck. He also operates The Taco Tigre, which serves Mexican-Asian tacos.
"We're running out of corn today," Nguyen said on the midway. "Weekends here are super busy, but the great thing is I have my family working with me the first shift. That's my nephew, that's my older sister and that's my dad roasting the corn. They've been helping me out from the start and I wouldn't be able to do this without them."
Nguyen runs his food trucks as a seasonal enterprise when not working full-time in sales for Ritchie Bros. Auctioneers.
With corn, he got rolling with a converted postal van five years ago.
"I started off very small, just with the roaster, no truck at first, just a tent," recalled Nguyen, who lives in the Cloverdale area. "I did a couple of fairs, didn't really know what I was doing, and started with a bunch of products and then I narrowed it down to corn and did one product really well."
They roast corn with added flavours including butter, Mexican spices, Doritos and Flamin' Hot Cheetos chips and more.
"Last year at the PNE we sold over 10,000 cobs of corn, the first year we were here," Nguyen said, "and this year we're actually beating that record for us."
It's been a busy summer for the Roasted Revolution truck across Metro Vancouver.
"Canada Day in Coquitlam was great for us, and we did the Halal food festival at Holland Park (in Surrey), did well there," Nguyen explained. "We also did the Food Truck Wars in Langley this year, and Vancouver Pride Festival and the Greek and Italian festivals too.
"Now I'm booked every weekend in the summer" — not bad for a business launched "kinda by accident," as Nguyen says.
"I went to a night market and thought, I can make money doing this, by calculating the costs and how much the food was selling for," he recalled. "I did a potato thing at the Surrey Night Market, when they did that (in Cloverdale), for two years. I made some money, saved money, and then launched this, the corn. The roaster is from Texas where corn roasting is really popular, and people here are loving it too."