The City of Surrey has launched court proceedings in a bid to stop the police transition in Surrey.
On Friday (Oct. 13) city hall announced the filing of a petition with the Supreme Court of British Columbia for a judicial review of the provincial order of July 19, 2023, to continue with the move from the RCMP to Surrey Police Service.
"The City of Surrey is opposed to the proposed transition that would result in a significant additional tax burden at a time when Surrey residents are facing existing affordability challenges," a news release says.
Lawyer Peter German, advisor to Surrey on policing, spoke to news media Friday at city hall.
"The issue is the jurisdiction of the minister (Mike Farnworth, Minister of Public Safety and Solicitor General) to make the decision that he did (on July 19)," German said. "The City of Surrey obviously opposes that decision and believes that he did not have that jurisdiction. That's for the court to decide.
"We hope the matter will be dealt with (by the courts) as fast as possible, but that's out of our hands," German added during his 13-minute news conference.
STORY CONTINUES BELOW VIDEO OF CITY HALL NEWS CONFERENCE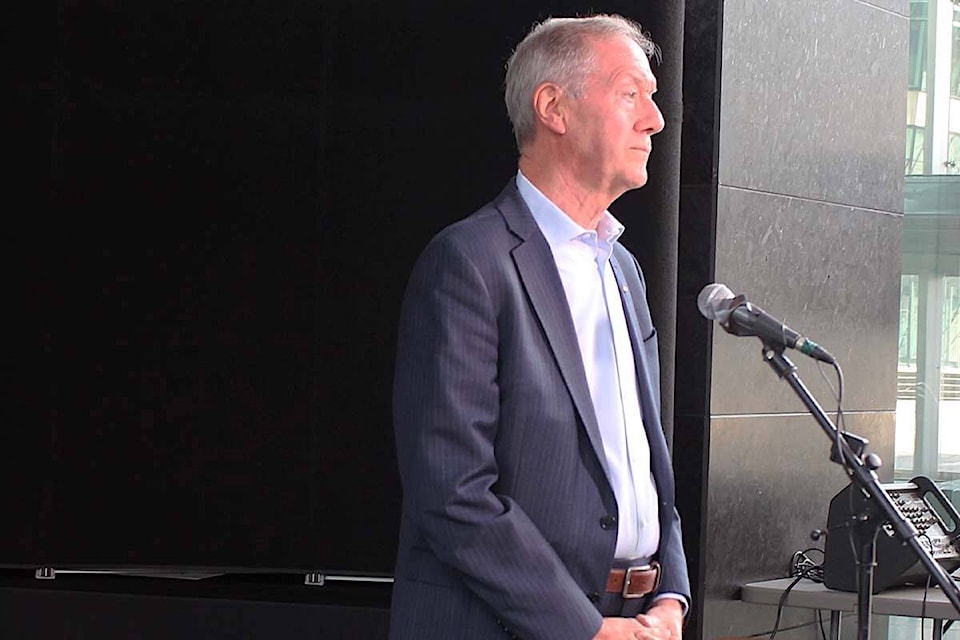 Also Friday, Farnworth said he'll introduce legislation Monday (Oct. 16) "that will provide clarity to the people of Surrey, and will provide a clear process for any municipality that wants to change its police of jurisdiction."
At city hall, German said the cost of Surrey's court petition will pale in comparison to the cost of the policing transition if it were to continue, but couldn't elaborate on the court costs.
"The city estimates that the current cost of having two police forces is somewhere in the area of $53 million per year. If the transition were to continue, those costs actually escalate and if you take a look at the (court) petition, page nine, these figures are there for you. The estimate is somewhere in the area of $460 million over 10 years."
Mayor Locke's ego-driven legal saga jeopardizes public safety, wasting millions! Councillors Nagra & Elford demand accountability, not recklessness. Read our statement below #bcpoli 👇 pic.twitter.com/yvYdsGcNsz

— Safe Surrey Coalition (@safesurrey2018) October 13, 2023
The lawyer said Surrey Mayor Brenda Locke wasn't able to speak about an issue before the courts.
However, in a statement Locke says her political team was elected to stop the police transition.
"Surrey simply cannot accept the extraordinary burden that our taxpayers will face as a result of a provincial order that will not deliver any public safety benefit," Locke is quoted in a news release.
German said he believes city council put forward "a sensible plan to keep the RCMP, which is in the best interest of taxpayers and public safety. The warnings about higher costs and inability to recruit frontline officers for the Surrey Police Service have all come true, and the City has an obligation to act in the public interest."
• RELATED: Surrey mayor slams 'rude' letter from Victoria bureaucrat on policing transition.
Posted below are the city's court document and letter from Locke to Mike Farnworth, Minister of Public Safety and Solicitor General.
Farnworth said the provincial legislation to be revealed Monday "won't be a surprise to the City of Surrey, we've discussed our intentions publicly over the past few months and city staff have been thoroughly briefed on its contents," he said in a news release.
In a lengthy statement, Farnworth added: "It's extremely disappointing that the municipal government of Surrey has decided to spend significant taxpayer dollars on lawyers, trying to further delay the transition to the Surrey Police Service (SPS), by taking legal action against the Province."
Farnworth said people in Surrey want an end to the uncertainty over who will police the city.
"They want this debate to be over," he stated. "They want government money spent on protecting their communities instead of on legal fees to continue old fights that have dragged on too long. The decision has been made, and it's time for the city to accept the decision and move forward with the police transition.
"As solicitor general, the decision to direct Surrey to continue the transition to the SPS was made within my responsibility to ensure community safety for people in Surrey and all of British Columbia. It was made after careful consideration of all the information provided by the RCMP, the city, and the SPS, and it was not made lightly.
"The RCMP, SPS, and the federal and provincial governments have demonstrated their commitment on multiple occasions to move forward with this transition. The only party refusing to engage in this process is the City of Surrey."
Farnworth added that the financial assistance of $150 million has not been accepted by city council.
"This money is intended to help offset the costs of moving forward with the Surrey Police Service, so that costs are not passed on to residents and businesses in the form of high tax increases.
"People's safety in Surrey and across the province is non-negotiable. We cannot allow people in Surrey or in other communities to be put at risk. British Columbians need to know that when they call the police, help will come."
Meantime, Surrey First Coun. Linda Annis called Locke's move to take the provincial government to court "a costly stalling tactic, with Surrey residents forced to pick up the bill.
"This whole thing isn't about what's good for our city, it is clearly about political ego," Annis charged in a news release.
"The province has made the final decision, and the vast majority of our residents simply want to get the transition completed so city council can focus on other important issues such as transit, hospitals, infrastructure, and schools," Annis continued.
"Instead, Mayor Locke has sidelined these other important issues by continuing her personal fight with the provincial government."
Annis also said hiring German, former RCMP Deputy Commissioner, as an advisor and spokesperson is an additional cost to Surrey taxpayers.
"I know Peter German well and respect him, but taxpayers want to hear from their mayor," Annis added. "Instead, we have a very costly consultant who is stepping into her shoes."
The National Police Federation (NPF) also weighed in Friday.
"We support today's announcement by the City of Surrey to challenge the provincial government's imposition of a police service on the City," stated Brian Sauvé, president and CEO of the NPF, which reps 20,000 RCMP members in Canada and abroad.
"The NPF agrees municipalities should have the sole decision-making authority to select their police service, as set out in the BC Police Act. Since its inception, the decision to transition to a municipal police service in Surrey has been entirely political and not about public safety or the excellent policing services our members provide to Surrey residents."