As B.C.'s job market continues to grow, local employers are looking for new team members to grow with them.
Despite 2022's challenges, B.C. had an impressively low unemployment rate of 4.2 per cent and added more than 62,000 new jobs last year. Still, there's an increasing need to add even more jobs and to connect employers to potential employees.
Black Press is proud to be a part of this exciting development. Investing hundreds of thousands of dollars into local communities, the Black Press events team is thrilled to present yet another opportunity for job-seekers in the Lower Mainland.
The Surrey Hiring and Post-Secondary Education Event is coming to the Sheraton Vancouver Guildford Hotel from 11 a.m. to 3 p.m. March 16.
Here, you'll meet representatives from a wide range of businesses and institutions, showcasing the Lower Mainland's flourishing job market.
"Our Surrey event last year in September was a terrific success,"says Ranee Pal, Black Press Events Manager. "It was amazing to see thousands of connections being made right in front of us. Surrey is truly an exciting city for prospective employees and students, and it's important that we give them the tools they need to launch into their dream careers. We can't wait to do it all again in Surrey soon!"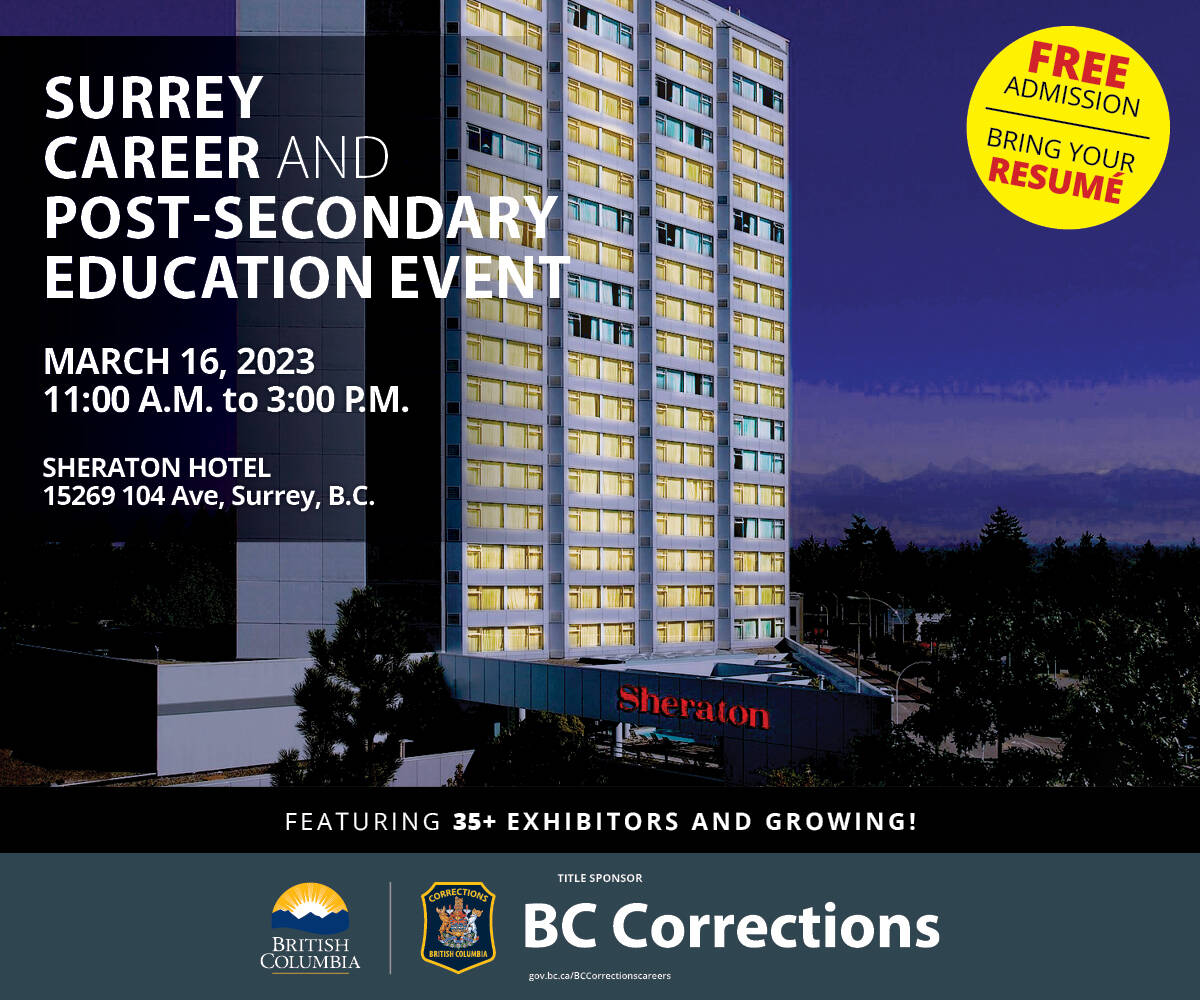 Here are 5 things attendees can do at the event:
Explore your options: The event will feature a wide array of employers and institutions. Attendees will find representatives for ICBC, CN Rail, Visual College of Art and Design, GFL Environmental, Bimbo Canada, Canada Revenue Agency, Metis Nation British Columbia, Sun Life, Discovery Community College and BC Liquor Distribution, among many others. Use this opportunity to discover the many different paths in front of you!
Make your pitch: Not only will businesses and institutions show what they can offer, the Surrey Hiring & Post-Secondary Education Event is a perfect opportunity to show everyone what makes you unique. Communicating who you are in-person helps make genuine connections instantly!
Make connections: Reaching out to others online can be a frustrating experience but career fairs are an excellent networking opportunity. The Surrey Hiring and Post-Secondary Education Event is an easy way to link with both recruiters and fellow jobseekers to get a deeper understanding of the industry.
Ask questions: Feel free to speak your mind! Interviews can be too stressful for some inquiries, but the event is a supportive environment where you have the freedom to make conversation.
Bring your resume: Showcase your skills and make a big first impression by bringing your resume! Having a face to your resume makes you stand out among the crowd.
For more information, visit https://events.blackpress.ca/surrey-event-2023/, call 1-855-678-7833, or contact events@blackpress.ca.
RSVP now at eventbrite.ca/e/surrey-2023-hiring-and-post-secondary-education-event-tickets-523853719577
See you March 16 at the Sheraton Vancouver Guildford Hotel, 15269 104 Ave.!