Mannie Bondoc first heard about the Tour de Cure, presented by Wheaton Precious Metals, from his co-worker and friend John Himmel. The two often went cycling together, having fun and friendly competitions on their long rides through the Lower Mainland.
"John asked me if I was interested in joining the Tour de Cure. It looked like a fun ride from Cloverdale to Hope, and it's a good cause, raising money for the BC Cancer Foundation," Mannie says.
When the pandemic hit, Mannie and John put their plans on hold. Then in April 2022, John found out he had cancer.
"He went through chemo and by the end of 2022 he was apparently OK. But four weeks later the cancer came back aggressively, and a week later he passed away," Mannie says.
In the months since, a number of other co-workers, family and friends have been diagnosed with cancer, adding further motivation to Mannie's 2023 Tour de Cure ride.
"It really touched me. Somebody out there is telling me to just do it!"
A windy last ride
The Tour de Cure is BC's largest cycling fundraiser, and takes place Aug. 26 and 27 on a route running from Cloverdale to Hope. Mannie isn't too worried about the distance, since he rides about five days a week and usually covers about 250 kilometres on weekends.
"A few of my co-workers have signed up for the Tour de Cure and asked me to ride with them, so if they need my help I'll be there."
John will also be in Mannie's thoughts, particularly if it happens to be windy.
"On my last Richmond ride with John I started the ride in front, to take advantage of a strong tail wind. After about 40 kilometres we turned around and I gave up the front to John, which meant he'd be riding into the wind. A few times he flicked his elbow, signalling for me to take the lead, but the devil that I am, I ignored the invitation. After a while I rode up beside him and said 'John, you look so happy when you're in front riding into the wind!'
So if Mannie encounters any headwinds on the Tour de Cure, he'll picture his friend up ahead, pulling him along.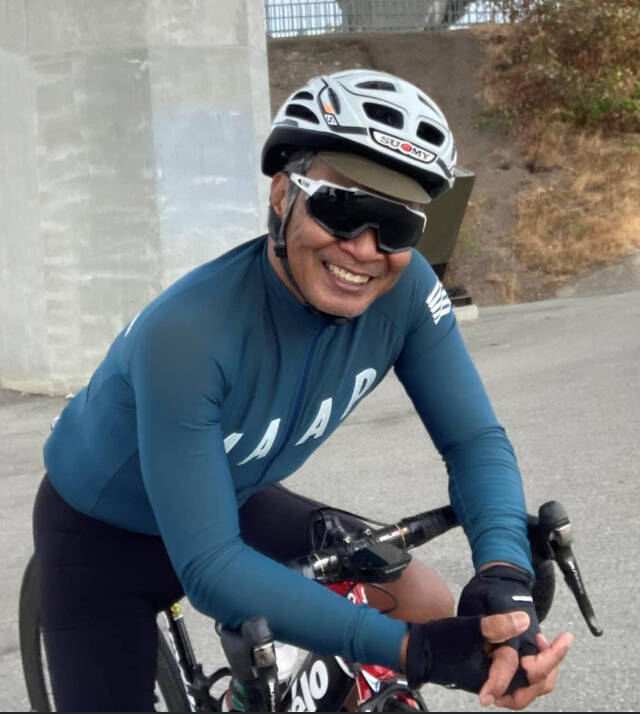 Sign up for the Tour de Cure, benefiting the BC Cancer Foundation
Mannie has already raised nearly $8000 for the BC Cancer Foundation, thanks to a wave of support from family, friends and co-workers — many who've donated in honour of John, through their company's employee giving program. He's hoping to raise even more before race day.
"It's a great organization to support, and this year it's very meaningful because I've lost some friends who are very dear to me. I'll do the ride to pay tribute to their courageous fight."
Join Mannie and register for Tour de Cure at tourdecure.ca/register.