UPDATE: 3:30 p.m.
Some fires are growing, while BC Wildfire Service has made progress on others in the North Okanagan-Shuswap.
The Shuswap River fire, discovered Friday evening, July 21, has grown to 3.5 hectares Saturday.
The Sowsap Creek fire, southeast of Enderby, that was discovered Saturday morning around 5:30 a.m., has grown to 3 hectares.
Also southeast of Enderby, further west, is the Lossie Creek wildfire, which BC Wildfire Service (BCWS) has listed as 'being held'. It is sitting at 0.3 hectares, down from 0.5 earlier this morning.
The Twin Lakes fire, just southeast of the Crazy Creek fire (which is under control), was discovered today around 12:30 p.m. It is sitting at 0.009 hectares, 'spot-sized', and out of control.
The Bush Creek East wildfire, approximately 23 kilometres northwest of Chase and west of Adams Lake, has had a 32-unit crew attacking it today, said BC Wildfire, but has grown from 310 to 330 hectares approximately.
The Columbia Shuswap Regional District (CSRD) issued an update on the Lower East Adams Lake fire, stating it is growing primarily toward the north flank, still moving away from populated areas that are currently under an evacuation alert. BCWS has not recommended any changed to the evacuation alerts affecting 92 CSRD properties, one property in the Thompson Nicola Regional District or those in the jurisdiction of the Adams Lake Indian Band, reads the update.
BCWS has the Lower East Adams Lake fire estimated at 320 hectares, up from a reported 219 this morning. Fire behaviour has increased to Rank 3 and 4, with some candling and torching of trees, and the fire is moving at a moderate pace, reports BCWS. Steep terrain is making firefighting difficult and the primary method of attack is use of a helicopter bucketing water.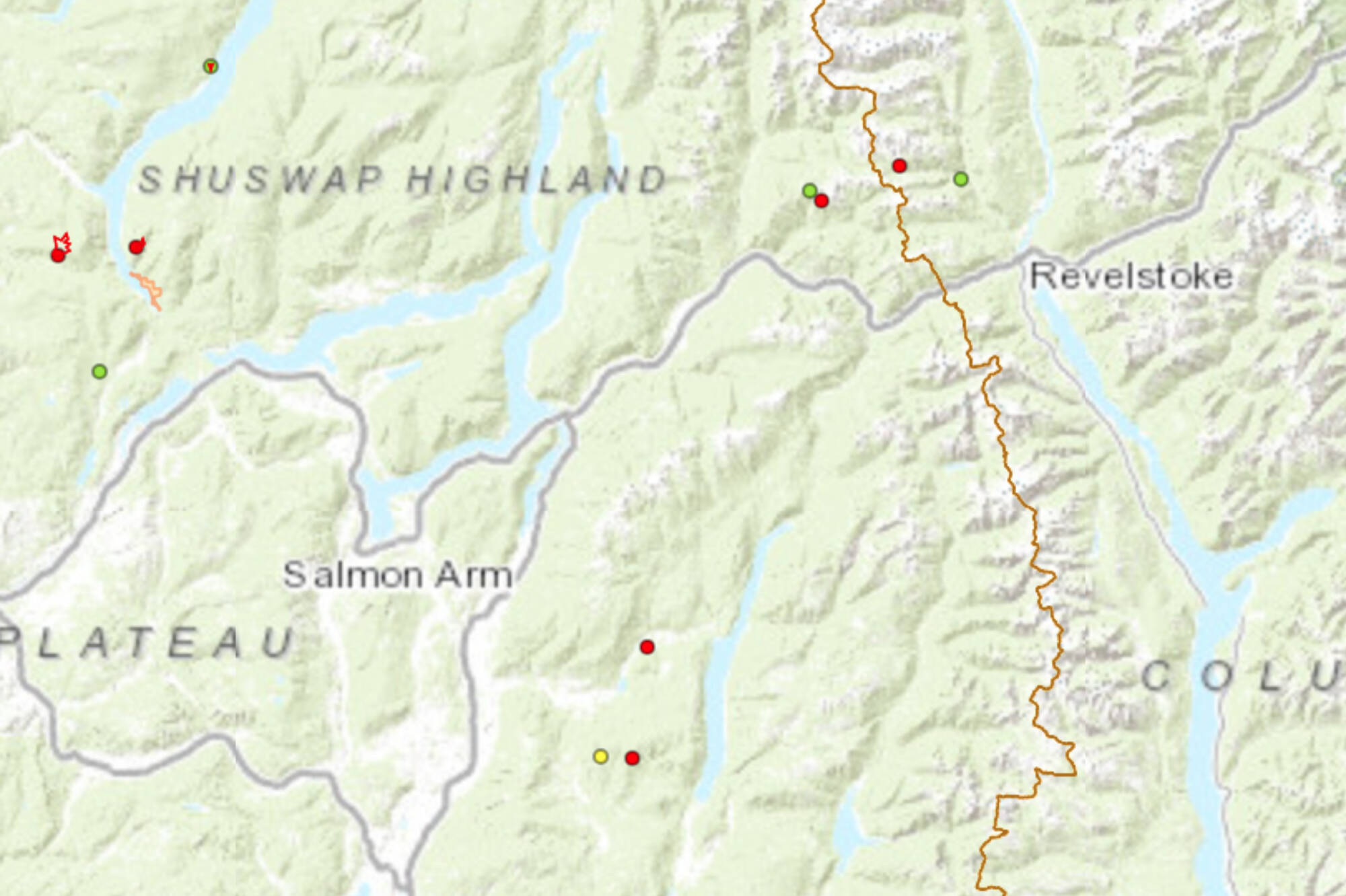 Original story:
Three new fires have sparked near Enderby in the Shuswap River area.
The Shuswap River fire, northeast of Enderby, was discovered Friday July 21, around 7:30 p.m. It is 0.5 hectares in size, classified as out of control, and is suspected to have started due to lightning. A BC Wildfire spokesperson, Taylor Shantz, said one crew and one helicopter are currently servicing the blaze.
The Lossie Creek wildfire, southeast of Enderby, is also sitting at .5 hectares and is out of control. The fire was discovered around 9 a.m. this morning, Saturday, July 22. The cause of this fire is undetermined.
The third new fire is at Sowsap Creek, to the east of Lossie Creek towards Mabel Lake. It was discovered Saturday, July 22 at 5:27 a.m. and is at 2 hectares in size, classified as out of control.
Both the Lossie Creek and Sowsap Creek fires will be attended to, but Shantz didn't have an update yet on crew sizes as of Saturday morning.
The Lower East Adams Lake wildfire, currently at 219 hectares, is still out of control and there is an ongoing evacuation alert for properties to the south, as it is burning approximately 21 kilometres north of Chase on the east side of Adams Lake. Shantz said a helicopter will be attacking the fire again today.
The other out-of-control fire in the area, at Bush Creek East, has a 32-personnel crew and accompanying resources attacking it today, said Shantz. This fire is 310 hectares in size.
Further updates will come later this afternoon.
---
@willson_becca
rebecca.willson@saobserver.net
Like us on Facebook and follow us on Twitter and subscribe to our daily newsletter.