Health Minister Adrian Dix's promises are not enough to fix the health-care crisis in Surrey, said BC United leader Kevin Falcon after a tour of Surrey Memorial Hospital Thursday.
"I've always said that about Surrey, whatever we think we have to do, we should do more, whether it was in health care or transportation," Falcon said.
"(Dix) shows up and makes a bunch of promises and re-announcements of things that they've talked about in the past. That is not good enough for the patients that are struggling and suffering in the hallways that we saw here in this hospital today.
"When I hear a department head tell me that women are literally in danger coming to this hospital, that is something that gives me a great cause for concern."
Falcon, whose daughter was born at SMH in 2010, added it is "unacceptable" that the NDP has finally realized, in its second term in government, that there was a crisis.
"They finally got around to saying, 'gee, maybe we should have a plan to figure out where all the doctors and nurses and caregivers are going to come from,'" he said. "We now know that Adrian Dix is gonna run around the province, every hospital trying to you know, put a BandAid on a victim that's bleeding to death. We have to think much bigger, and think more long term about the investments we're making."
Falcon was part of the BC Liberal party from 2001-2013. During that time, he was the MLA for Surrey Cloverdale and was health minister from June 2009 to November 2010. In 2022, he returned to politics after winning the party's leadership race.
Falcon says planning of a second tower at Surrey Memorial Hospital should start immediately. The initial $500-million expansion, he says, was built with plans to add an additional tower but that hasn't happened yet, due to the NDP's mismanagement and lack of planning and investment.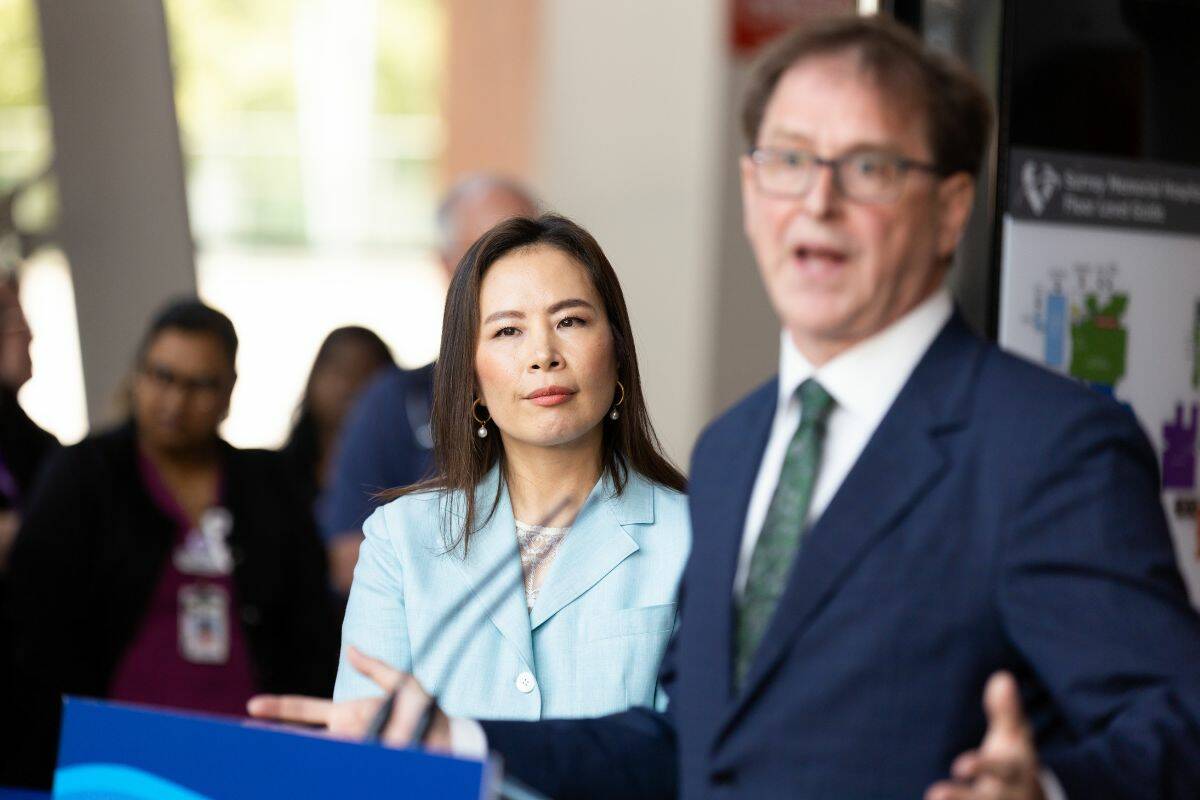 On Wednesday (June 7), Health Minister Adrian Dix was in Surrey to announce coming improvements at SMH, including a new triage unit in the emergency unit, more MRI/CT machines, a second radiology suite, two more two cardiology catheterization labs and more funding for clinical associates, associate physicians and nurse practitioners.
Dix also said plans are underway to expand the hospital by improving and increasing capacity for more inpatient and outpatient care, surgeries and clinical programs.
Meanwhile, Surrey Mayor Brenda Locke thanked Dix, saying his announcement is great news for the city.
"That was a massive announcement for Surrey Hospital," Locke said during an unveiling of a pharmaceutical distribution centre in Surrey on Thursday.
On Wednesday, Surrey's business community was quick to laud Dix's announcement.
"Since our Surrey Health Care policy paper was released in early March, there have been vocal calls for investments in staffing and infrastructure to address decades of insufficient health-care investments in what will be B.C.'s largest city," Surrey Board of Trade president and CEO Anita Huberman stated in a release Wednesday.
"It took great courage in two weeks of meetings to come to short-, medium- and long-term implementation plans. This is only the beginning of what needs to be done and is a step in the right direction for Surrey's workforce."
---

anna.burns@surreynowleader.com
Like us on Facebook Follow us on Instagram and follow Anna on Twitter