DOWNTOWN SURREY BUSINESS IMPROVEMENT AREA (BIA)
TAKE NOTICE THAT: The Council of the City of Surrey proposes to renew for a further five-year period, a Business Improvement Area (BIA) for the City Centre area. The purpose of the BIA is to promote, stimulate and improve the economic viability of the area.
The BIA is to be funded by a local service tax levy on Commercial and Industrial properties prescribed as Class 5 (Light Industry) or Class 6 (Business or other) within the shaded area shown on the map below. The estimated total cost of the levy is $7,198,431 over the following five years: 2023, 2024, 2025, 2026 and 2027. The affected property owners will pay 100% of the cost. The estimated levy of $0.35 per $1,000 of assessed value, will be included on your 2023 tax statement and must be paid in full by the tax due date.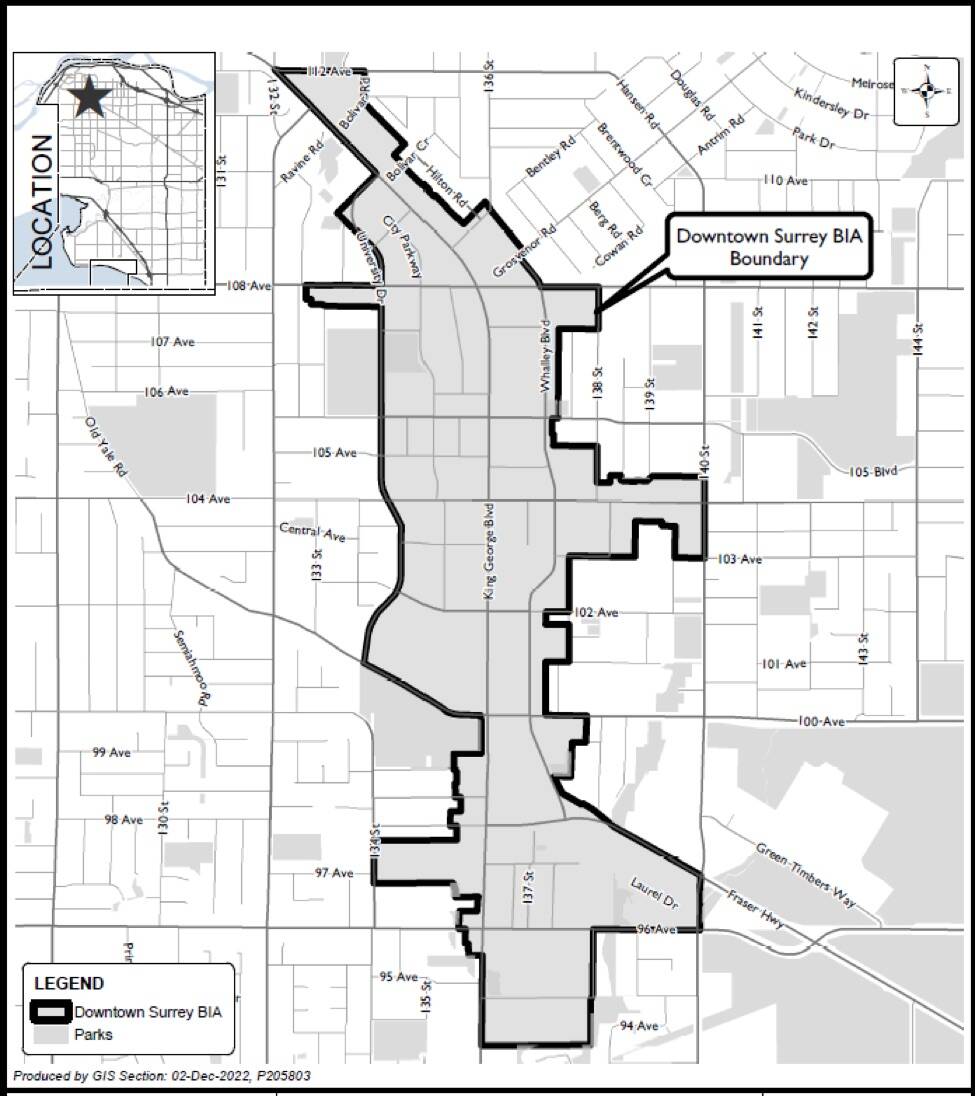 FURTHER, TAKE NOTICE THAT pursuant to Section 213 of the Community Charter, S.B.C. 2003, c.26, as amended, the BIA may proceed unless Council receives sufficient petition against the service within 30 days after the second date of this publication. A sufficient petition must:
be signed by the owners of at least 50% of the parcels that would be subject to the local service tax, and
the persons signing must be the owners of parcels that in total represent at least 50% of the assessed value of land and improvements that would be subject to the local service tax.
This notice will appear in the Surrey Now Leader on January 19, 2023 and January 26, 2023. Owners desiring to petition against the undertaking of the renewal of the Downtown Surrey Business Improvement Area must do so by submitting their petition, in writing, within 30 days of the second date of publication of the 'Notice of Intention'. The final date for the acceptance of petitions will be Monday, February 27, 2023 at 4:30 pm.
Affected property owners who have not received a petition by mail, may obtain a replacement from the Office of the City Clerk, telephone (604) 591 4132, or email: clerks@surrey.ca.
Jennifer Ficocelli | CITY CLERK