Ideally, the disc sport of ultimate is played on dry grass under clear skies, with little or no wind. But that definitely wasn't the case Thursday (April 20) at Newton Athletic Park, where school teams gathered for the annual Pull for Parkinson's.
It was quite a breezy, chilly, slightly damp day for the charity tournament involving 28 senior and junior teams, several based in Surrey.
"That weather made for an interesting afternoon of ultimate," confirmed Queen Elizabeth Secondary coach Chris Wakelin, who organizes the Pull and is a big backer of the "frisbee" sport, in local schools and also Vortex Ultimate club, along with fellow ultimate-ers like Mike Dumouchelle, coach at Guildford Park.
The co-ed nature of "ulti" helps draw players, along with springtime games played in relatively nice weather (not so much this year).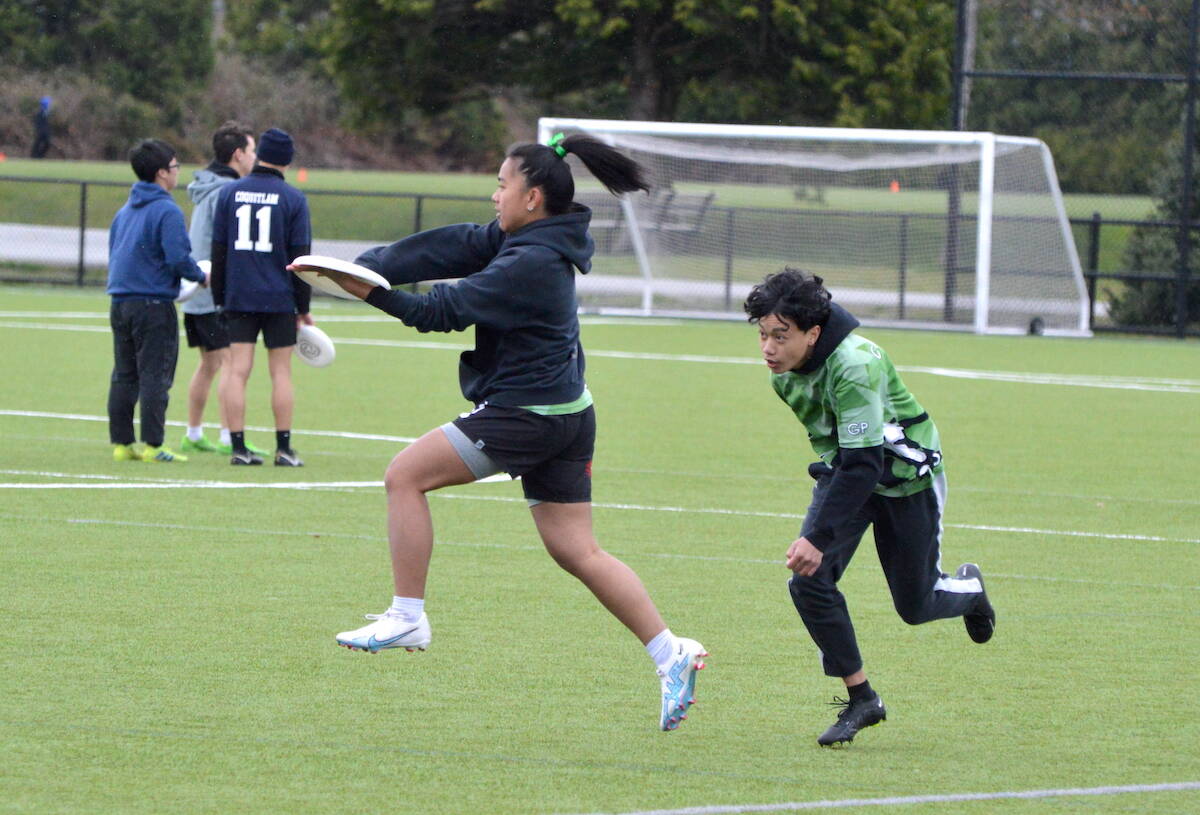 Between games Thursday at NAP, hundreds of student-athletes bundled up to stay warm as Wakelin handed out pizzas for lunch, two per team.
"That goes with the spirit aspect of this tournament," the coach said as he multi-tasked. "It'd be great to do a barbecue like they used to back then, but I just don't have the time anymore. My bandwidth with this is full."
"Back then" is a decade ago when Pull for Parkinson's was started by high school students Thomas Canale and Miriam Hanjra, who in 2014 approached Parkinson Society British Columbia with an idea for a new fundraiser: an ultimate tournament.
Both have connections to the disease, which compelled them to get more youth involved in supporting a cause they may not know much about otherwise, according to a post on parkinson.bc.ca
Thomas' father, Franco Canale, was diagnosed with Parkinson's 20 years previous, and was a major inspiration for the tournament. Miriam also had a personal connection through her grandfather, Bashir.
"The two of them are former students of mine," Wakelin explained, "but they grew up and got jobs, all that kind of stuff, so I told them I would take it over and keep the tournament going. It's easy to do – we just want to keep it alive and we've grown it, with 28 teams, and even 32 some years. It's held here every year, and it's all about spirit, raising money for Parkinson's and getting ultimate players together. It's a fun tournament."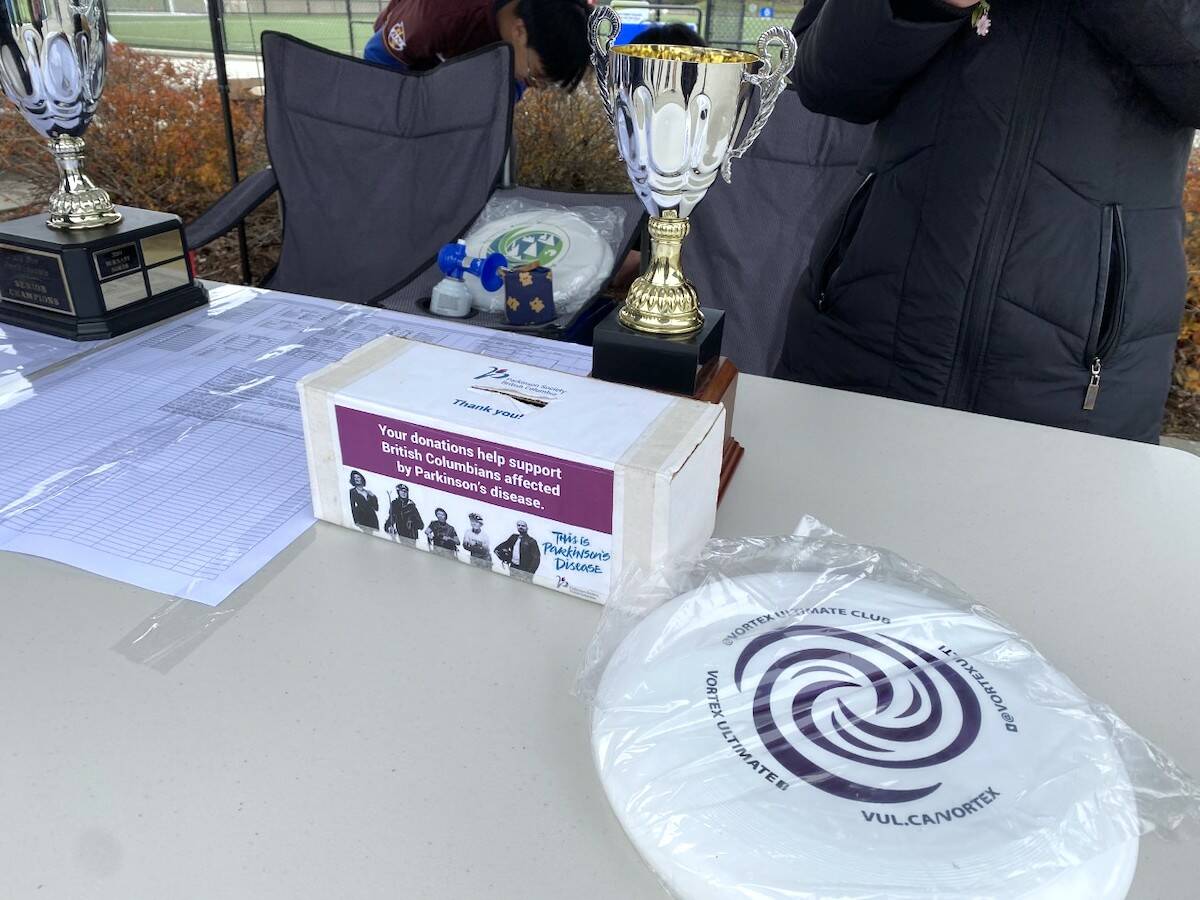 High school ultimate games are played on a field half the width of a soccer pitch. The "kickoff" is called the "pull," and the team then moves the disc up the field by throwing to other players. Points are scored when the disc is caught in the endzone. With no referees, games are self-policed by players.
Wakelin's love of ultimate began growing while in high school, and he's very keen to get today's students involved in the sport.
"I had a science teacher in Grade 10 at Earl Marriott (in South Surrey), she brought the sport to us, and a bunch of the kids got involved," Wakelin recalled. "There were no other teams around, and pretty much the only other local team around here was out in Abbotsford at the time. We went to provincials and there were a whopping eight teams there," he noted with a laugh.
"That's where it started for me. My friends and I had such a great time playing in high school and kept playing throughout university, and it's just one of those things. If we can bring cool opportunities to kids to be able to do fun stuff like this, then we do it.
"A cool thing is that a lot of the kids I coached and taught back in the day, they're here coaching teams now, they've grown into those roles."
In the final week of May, Newton Athletic Park will again host two season-ending provincial tournaments hosted by BC School Sports and BC Ultimate, as happened in 2022. Last year's event drew close to 600 players to the facility on 128 Street.
Right now is the heart of the school ultimate season, with the fun of playoffs in May.
"This is my sixth year coaching QE's team, and the sport has grown like crazy over the past few years," Wakelin said as he handed out more pizzas. "It's changed, and BC School Sports has gotten involved, and that's taken it to another level, B.C.-wide."
In an email, Wakelin thanked the Now-Leader for shedding some light on ultimate.
"Anything to get ultimate known in the community is a beautiful thing," he wrote.
"Canadian Ultimate Championships are being held in Surrey this year, so that's a big deal and any way I can promote junior ultimate to bring the sport to more young people (lots of events and options coming up in the city for kids), I'll certainly try my best to do so."
---

tom.zillich@surreynowleader.com
Like us on Facebook Follow us on Instagram and follow Tom on Twitter Journalistic standards and guidelines